Moderator: Dyno Brian
On3 99-04 2v/4v single turbo kit install instructions
If your thinking of turbo charging your car, and what all goes into doing it properly, then by all means read this!
this can be used for the 96-98 cars as well, but different fuel pump is needed for those, and coil relocation may be required aswell!
ok a customer provided me with some good info and pics of his install on his 96-98 car, so i made a new thread for those and i will be adding 4v info and doing a seperate one for the twin kits too since i have customer that have giving me this info!
http://gearheadbuilt.com/forum/viewtopic.php?f=8&t=88
ok I am doing some tech info and making some instructions for the 2v-4v forward facing kits and im discussing the on3 kits in more detail and this is updated as of 11/01/16
i will not be doing a step by step , if you have not done anything to a car before, or have installed any parts etc, then please do not try this at home
Now read thru the instructions before installing the kit! this will help, i will cover many things along the way, and some things can be done with the kit before you even start taking the car apart! read thru this a few times also read thru my vacuum diagram and waste gat info thread so you are firmilar with those components before you attempt the install http://gearheadbuilt.com/forum/viewtopic.php?f=8&t=64
i also cover what to do with the pcv system and crank case venting as well in another thread http://gearheadbuilt.com/forum/viewtopic.php?f=8&t=70
there is tons of editing and in some of the write ups i bounce around a bit. i try to direct everyone here for tech instead of my inbox on facebook. i run a very busy shop and its hard to get customer cars done with my phone in my hand typing when i cover alot of tech here!
i will be getting into turbo sizing for builds and selecting fuel injector sizing and fuel system needs as well. there are alot of threads in this forum, some are complete, some are still a work in progress.

first and for most, by reading these instructions i am not liable for your stupidy! in no way is this direct instructions on a install. this is a guide to help you installing. i am not responsible for your safety, when you pull the k member and or springs from the car, you must have the engine supported because it will fall out! i have used a brace from the top, and i have done jack stands holding it up from the bottom doing these on the floor before i had a lift. but i am in no way shape or form taking responsibility for your actions, and by following my instructions/install tips, you are releasing me of any liability!
bare with me as i will be telling you what i use and sell for these as well, my on3 setups have proven themselves time and time again, and you must realize by now, it take more then just a turbo kit, esp with these forward facing kits! the basic turbo kit, k member, injectors, maf, clutch, tune, what do you do with the factory systems like pcv and crank case breathing, colder spark plugs,and a alignment will be needed as well! all of these are things to consider when thinking about turboing your car! these kits packaged rith with thr 67mm bb, double the power to the rear wheels with minimal boost. this is about as a complete of a write as you will find, i will be editing over the next few weeks, adding more pics, and info and tricks as well. if your thinking about turboing your car, read thru this first!
dont wrap the headers on a street/daily driver(alot of people do just fine, but please use the dry wrap if it cracks or any thing happens and its wrapped they will know and it voids the warranty. if any thing have them ceramic coated after you test fit every thing!(at this point you can wrap them too and really kill underhood heat) if you have every thing coated, then find a issue with fitment, your gonna be out the coating! some times things can be jigged wrong, i see and hear of it from time to time. thats why if your coating every thing test fit it first (this sucks with some cars/kits but it is what it is. on3 has never had a issue replacing a hot side if things are not fitting correctly. remember these kits are way less then alot of others out their, they are made over seas and shit happens. your hot side has a one year warranty from the time of purchase, turbos have a 30 day warranty from the time of purchase
the biggest complaint i hear is the lack of good instructions, so im doing a bit of a big writeup for everyone that has purchased a kit thru us!
now these instructions are for then 99-04 2v kit, but the 99-01 cobra is very similar
i have some extra tips for the 4v install at the end of this thread, and thru out aswell but below i discuss the 4v kit here
the 4v kits was designed around 99-01 cobras, but work on several other 4v cars of the new edge generation
NO this does not do compound boost on a termy setup. (single or twin)
any 4v car with a oil cooler will need to swap the lower coolant oil housing over to a 2v style outlet, and lower radiator hose(i highly recommend the cross over delete doing this as well. there is another thread here covering that
the 4v hot side is completely different then the 2v, and the cold side is different as well. we do sell just the hotside as well
some turbos will need a thinner fan setup on the 4v single kits
Now for the parts list
the first thing we do, is install a clutch that can handle the torque the turbo kit produces (we use the exedy stage 3 with great success) and doing the break in miles before doing the kit install, unless the kit is going in with the built motor, then there are a few ways to address the install! and i will try and cover these aswell!
On3 turbo kit complete (i highly recommend the 67mm bb upgrade now, instead of later!)
http://gearheadbuilt.myshopify.com/products/on3-99-04-mustang-gt-2v-turbo-kit-can-fit-to-96-98
the 4" intercooler upgrade is a add on in our store, and we offer all the turbo options for these kits! even minus turbo! WE EVEN HAVE JUST THE HOT SIDE LISTED!
we also offer all the kits installed and tuned out the door as well!
http://gearheadbuilt.myshopify.com/collections/on3-systems-installed-and-tuned-out-the-door-packages
UPR chro-moly or mild steel K member kit with coil overs (highly recommend 4 bolt camber caster plates with any coil over on these cars)
http://gearheadbuilt.myshopify.com/collections/on3performance/products/upr-k-member-kit-with-coil-overs
60lb deka injectors (careful theres alot of fakes out there)
http://gearheadbuilt.myshopify.com/collections/on3-fuel-air-products/products/on3-deka-60lb-or-80lb-injectors
we use the hpx slot meter (we sell the kit with maf, flange, screws and wiring pigtail in our webstore)
http://gearheadbuilt.myshopify.com/collections/on3-fuel-air-products/products/hpx-slot-maf-kit-87-04-mustang-mass-air-meter
here wiring diagram for the hpx meter!
http://gearheadbuilt.com/forum/viewtopic.php?f=8&t=63
Your going to need a custom dyno tune! weather it be on a dyno, or a datalogged remote tune! many way this can be done
if you have a sct device we can get you a custom start up tune, or we can mail you a chip with a start up tune tweaked to your setup
we use a drop in style fuel assm, no sense in messing with busting plastic stock unit to try to finger fuck a little fuel pump in it, then dropping the tank down again when its not working etc etc
http://gearheadbuilt.myshopify.com/products/99-04-mustang-complete-drop-in-fuel-pump
AM sells these for 299.99 under the bbk name, and they are just a simple walrbo unit!
here are the pumps i use up to 600hp, complete drop in unit, put it in and done in 20 minutes, dont forgot to change your fuel filter at this point!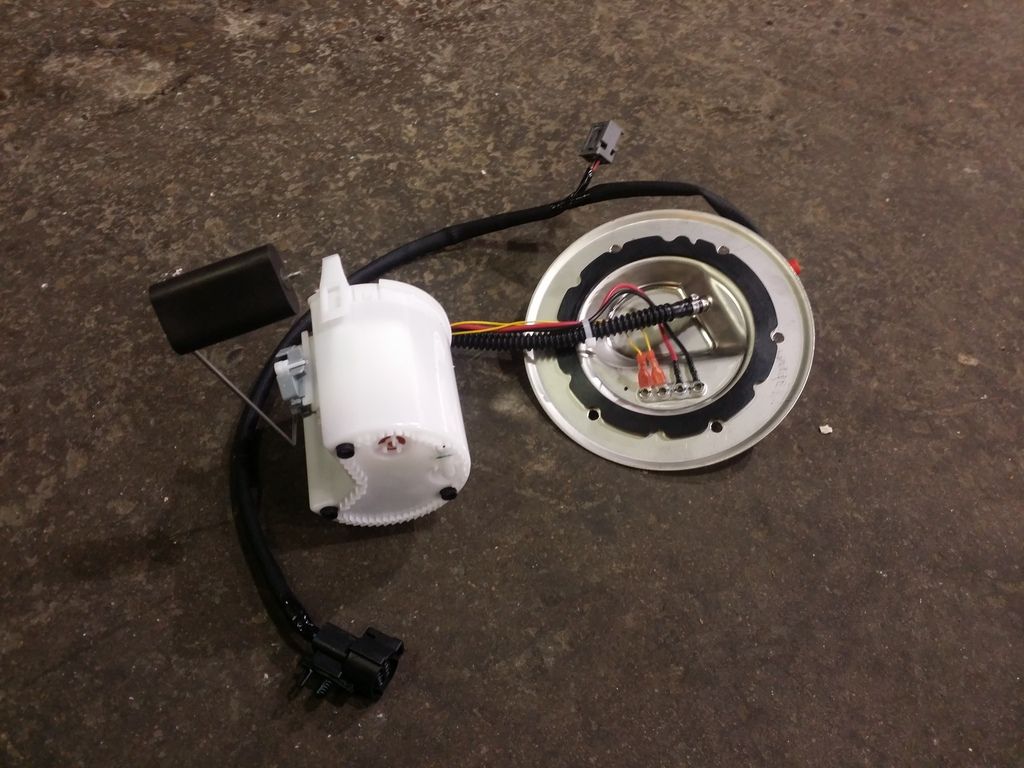 We do sell the on3 dual and triple fuel pump units in our webstore if you are going above that level! i prefer a return style system at above the 600hp range! and we will have a write up on those installs here in our tech section as well
tr6 spark plugs gapped at .028
one 02 extension for the driver side, 4v car will need 2 extensions!
http://gearheadbuilt.myshopify.com/products/bbk-86-10-ford-18-02-wire-harness-extension-kit-pair
will need oil and a new filter (we have options on filter depending on filter mounting location) and wix 1515 filter fits if in the fender well, and the 1516 works if mounting off the trans as i do in this install here
air filter
and at a minimum you will need to vent the driver side valve cover line that used to go to stock air inlet tube, later in this thread you will see how we address it in other ways as well
http://gearheadbuilt.myshopify.com/products/on3-stainless-mesh-air-filter-add-on-to-your-kit
some ultra cooper rtv
and clutch that can handle the power the turbo kit will make, most of our 2v builds with the 67mm bb unit make great power as you will see in this dyno graph
this is a before and after of a stone stock 2v car we did a few years ago, and the customer daily drives it!
http://gearheadbuilt.myshopify.com/collections/mcleod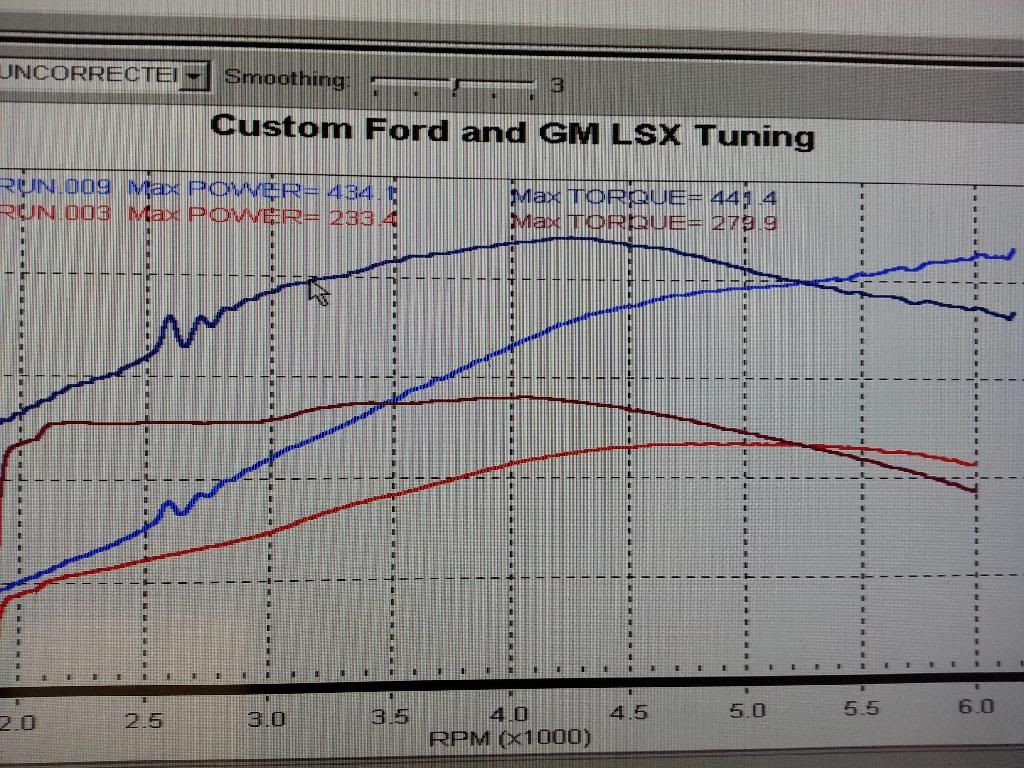 i just had one make 450/470 and all it had was exhuast and a throttle body, and it was a very mild tune, and we detuned it a tad to 420ish wheel cause it was making really good torque!
now this is why i push the 67mm upgrade, the below dyno chart is the 70mm vs 67mm on the same car, same dyno, same time of year. you can clearly see the air flow difference in the power between the 2 turbos. this was a 3v car we did this test on btw!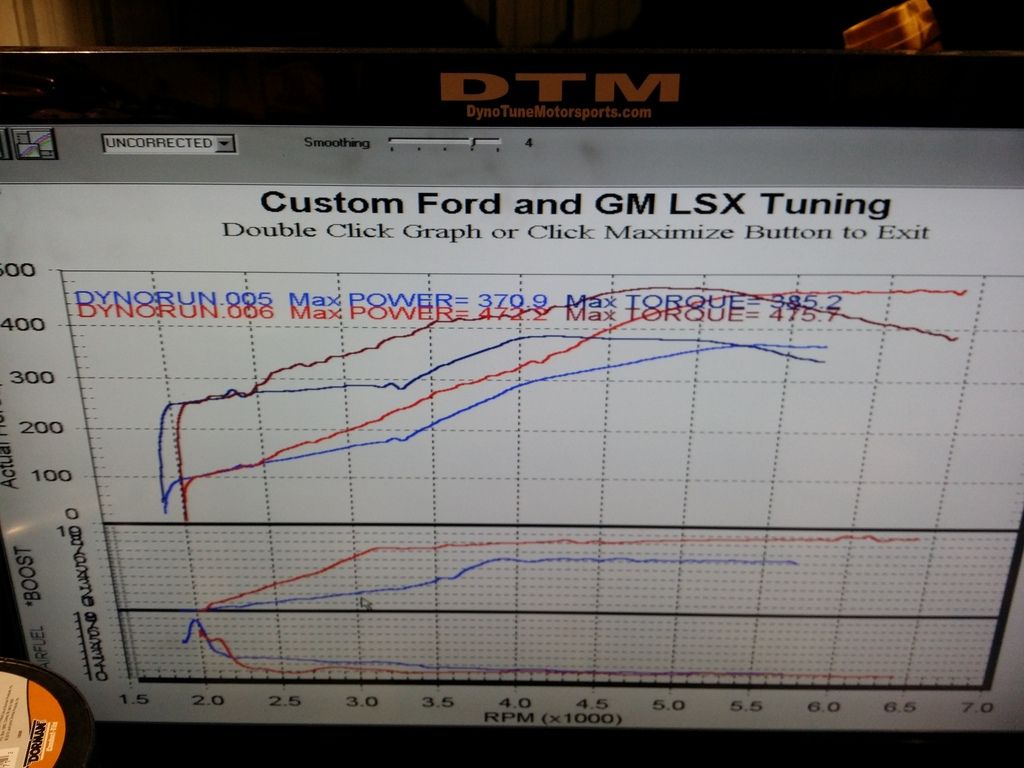 one of the first things you want to do is make sure you have everything, make sure you have all your tubing, intercooler, couplers v bands hardware, oil feed and drain etc along with all the parts listed above!
we lay the kit out and stay organized! there is alot of stuff with these!
now hopefully you have already installed the clutch and did your break in period and got a feel for the new clutch,
first things first guys, lay every thing out and inventory your kit! weather it 2v/4v single or twin turbo kits 2v/4v kit
i am working on full inventory lits for all the on3 kits
http://gearheadbuilt.com/forum/viewtopic.php?f=8&t=76
make sure you have all your supporting mods gathered together.
i have shelves i built to lay the kits out and keep every thing organized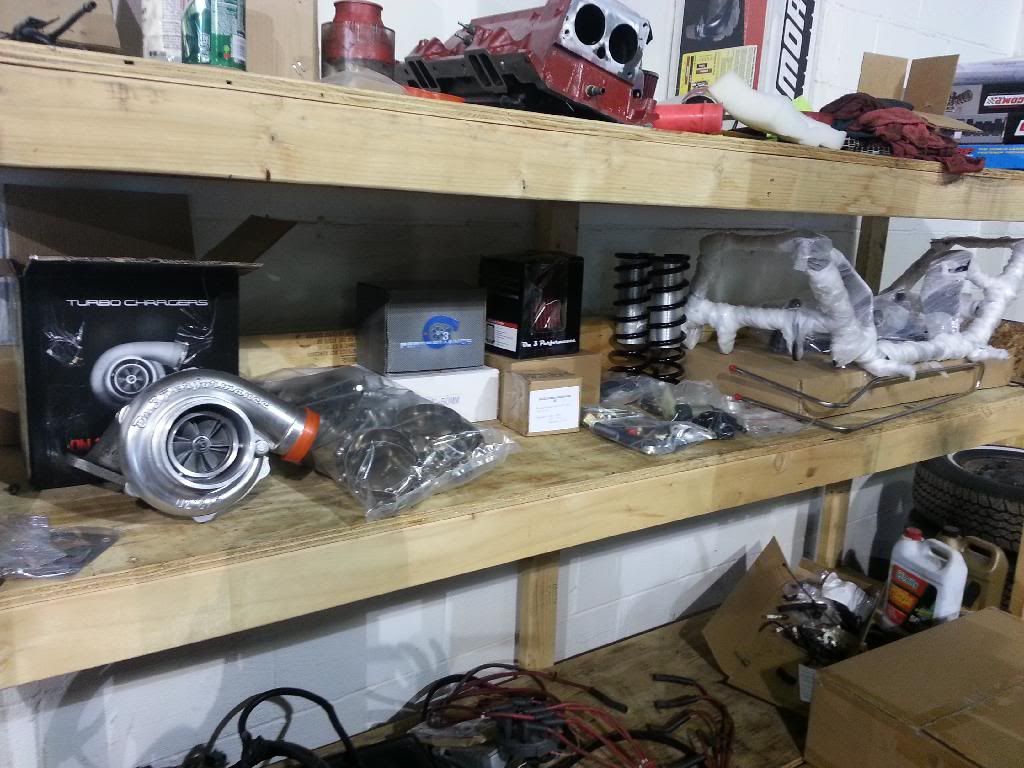 now to start removing parts from the car, first thing we do is install the fuel pump assembly and new fuel filter
remove the stock air box or aftermarket cold air intake system, these items will no longer be needed.
go ahead and install your colder spark plugs
now im not sure if you have a 2 post lift like we do or now, but this can be done on jack stands. j
ust make sure you are safe and use the proper supporting tools or jacks and stands etc, we are not responsible for you being stupid!
now drain some coolant from the car just enough to remove the coolant tank and upper radiator hose, save both of these items
remove the front bumper cover, and dont worry if the foam bracing falls out, you can tape it in place when your going back together
now the car should look similar to this, other then in this pic the coolant tank is still in place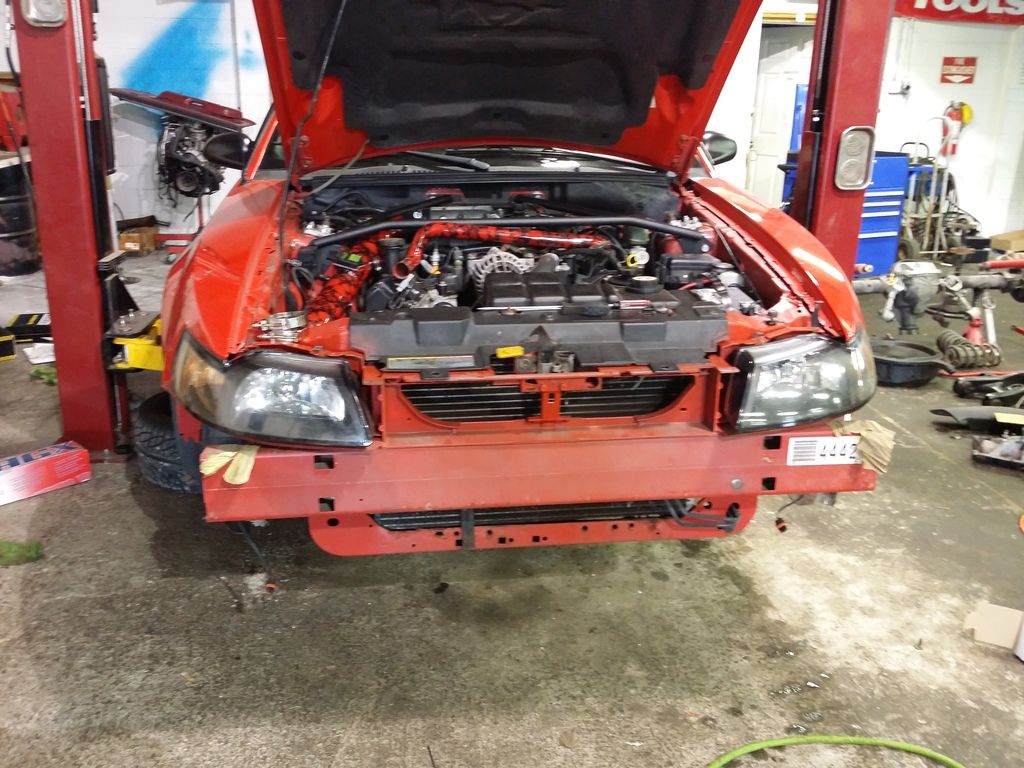 go ahead and remove the factory or aftermarket h/x pipe from the car, and be sure to save you front 02 sensors, if you have over 50k on them, its time for some new quality replacements
go ahead and remove the factory power steering cooler and block off the hoses so you dont loose a ton of fluid, you dont want to be working in a mess of power steering fluid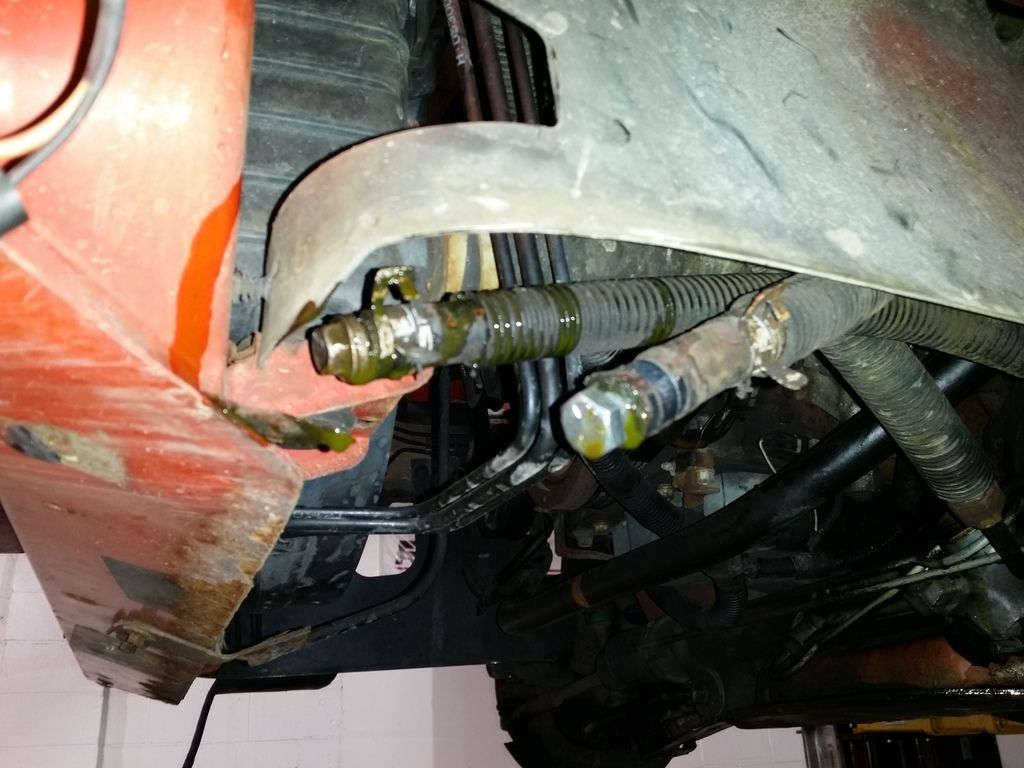 remove the brace for the factory coolant tank support (it bolts to the bottom of the core support, and has the long rod that holds the rear of the tank in place
one thing i do, to help make room, is remove the factory cooling fan, and yes this can be installed from the bottom of the car after you have the turbo in place, i will get to this later in the build
as you can see, tons of room for stuff now, but after everything is back in, it will all be stuffed with turbo goodness!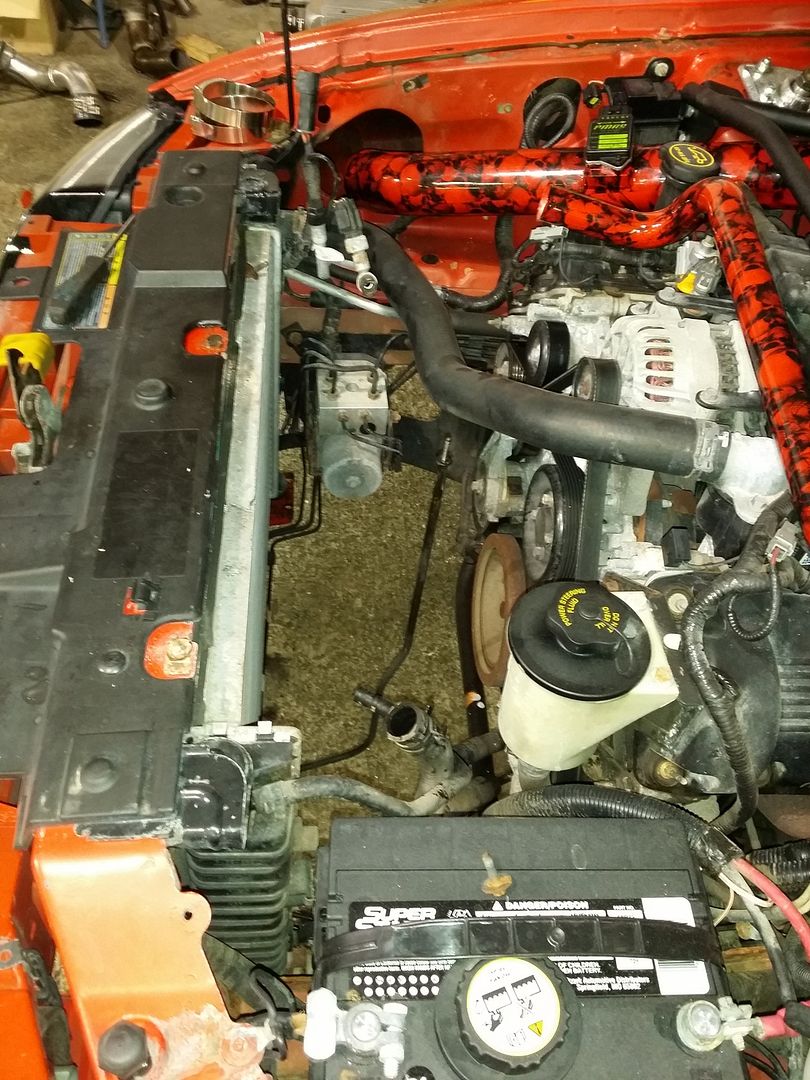 go ahead and remove your oil filter,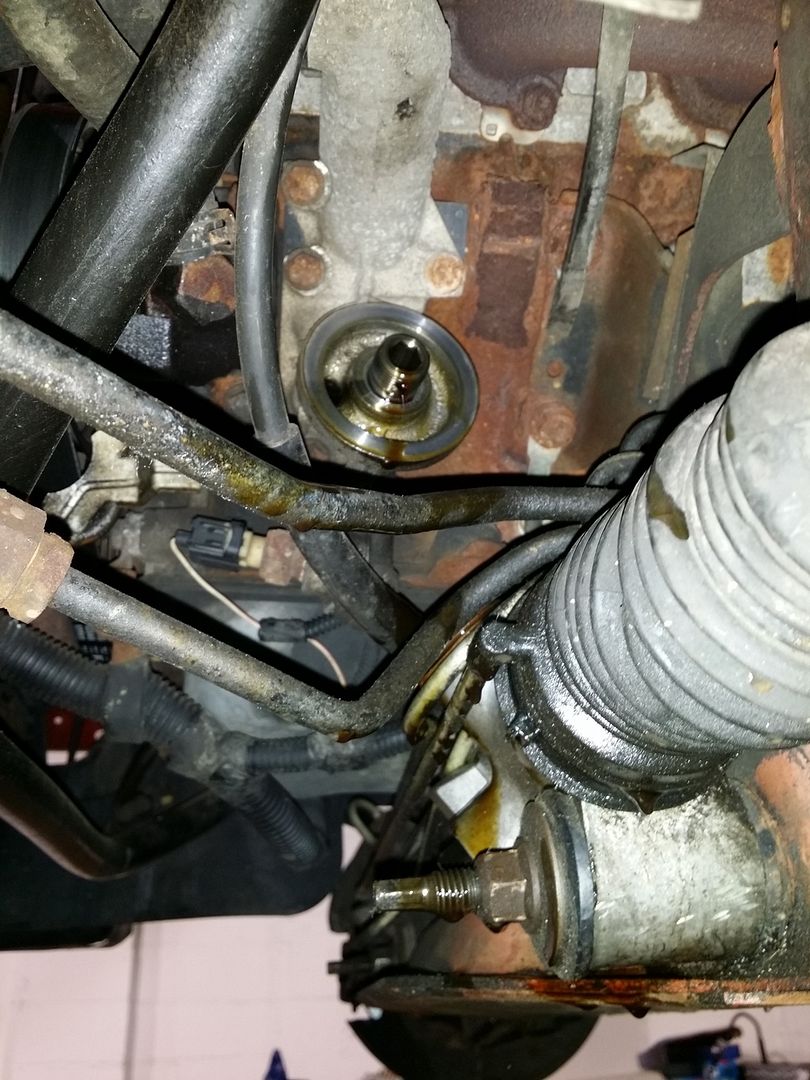 now take a few minutes to put some red lock tight on the oil filter adpaters to save yourself some headache!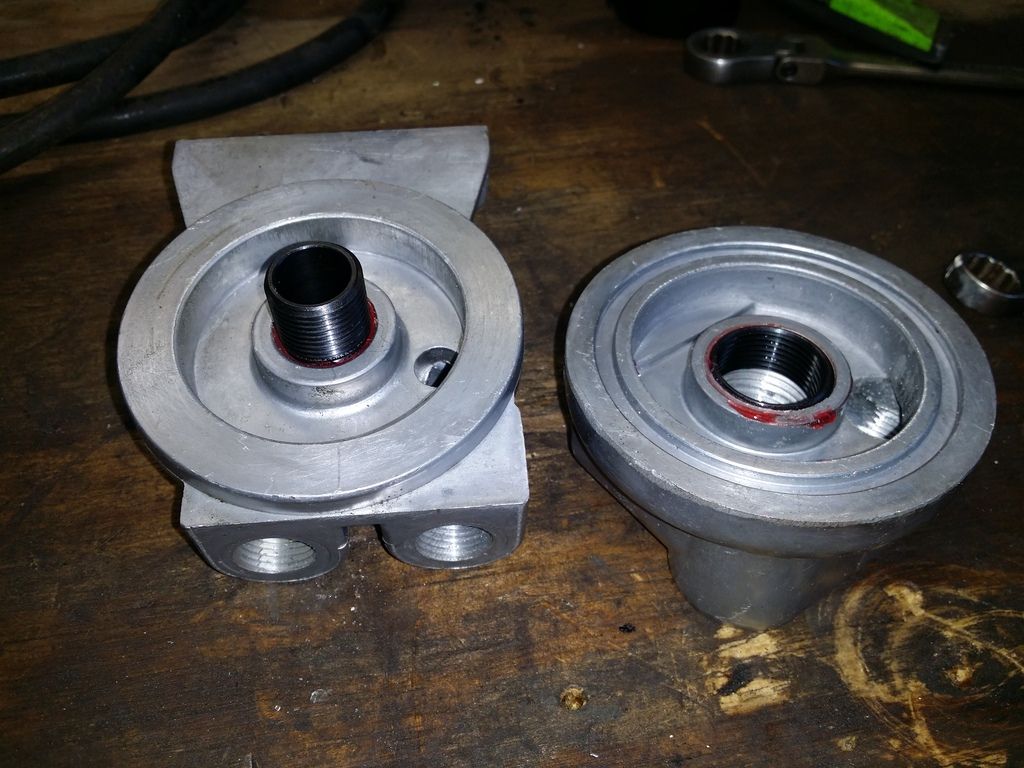 and spin on the oil filter adapter provided with the kit!
you want it aimed to the rearward and downward like this
that pic is with the new k member inplace. we will get to that in a minute. but if when its tight, it is not aimed in this location, then please take a allen head wrench or socket, and loosen the threaded insert that the oil filter threads onto, and play around with the position until you have it aimed like this!
you can tape/seal and install the fittings to this right before you install the new k member!
remove the stock sway bar end links! and save the bushings! i normally buy new and washers, and use the bolts and tube on3 provides with the hardware
now proceed with removing the stock/lowering springs! becareful these can kill you or hurt you badly!
should be here about now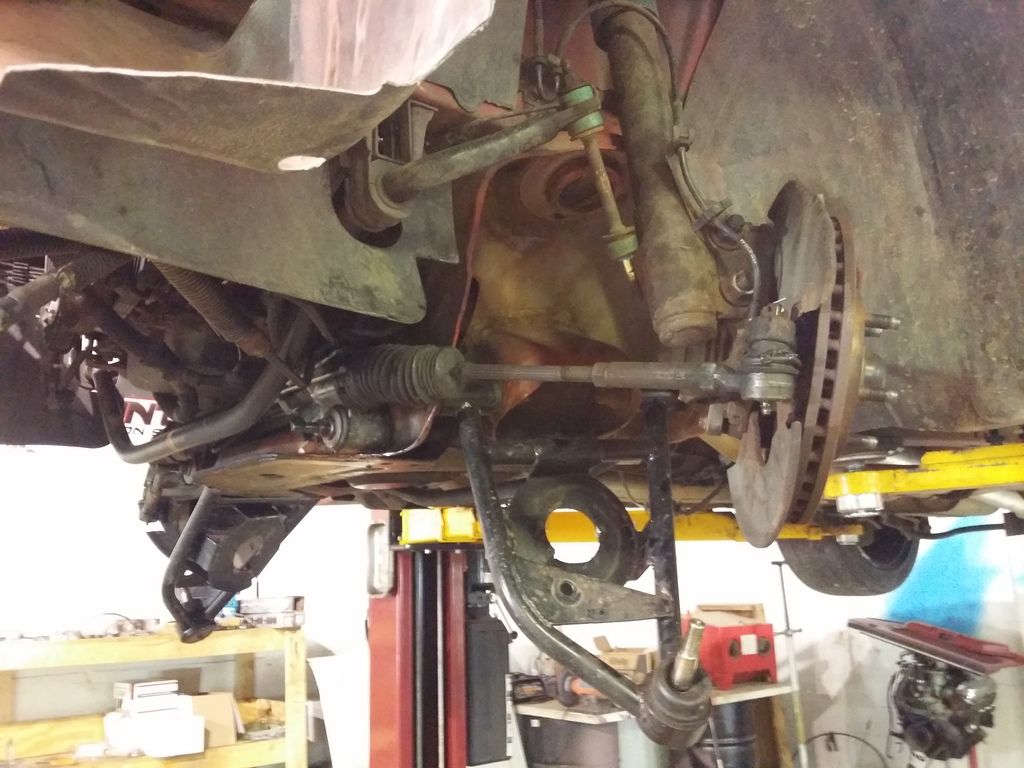 now its time to support the engine, and remove the k member, but first that steering rack and shaft need dealt with!
remove the bolt from the steering shaft, and slide it back off the rack (lock the steering wheel so you dont mess up the air bag clock spring. normally the steering will lock to where the bolt is facing downward so you can remove it, and the shaft will come off the rack with a bit of prying!
now remove the steering rack bolts, and remove it from the k member. i ziptie it to the sway bar, and its hold up nicely while you swap the k member out, and you will be installing the headers before the new one goes in!
now you can remove the 4 smaller k member bolts, and then onto the 4 larger ones! these can be a pita in some cases!
but here you go, k member outn and engine supported!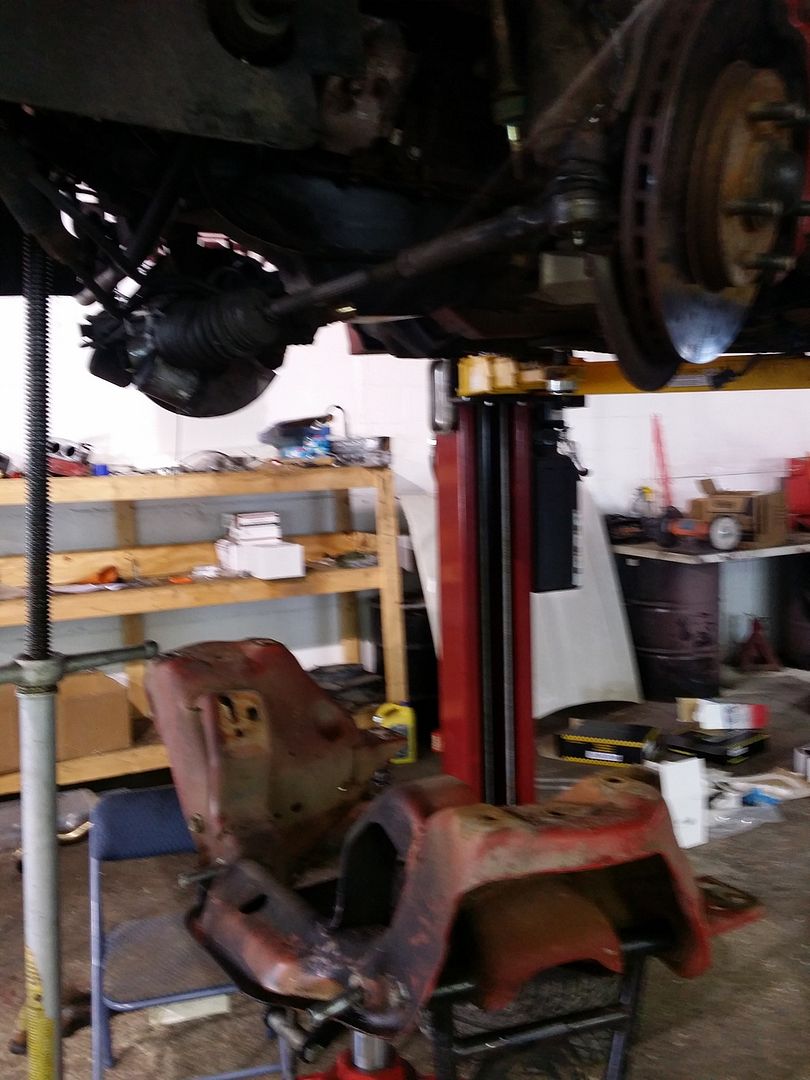 Please note, for a more professional install, now is the time to remove your pan, and have a bung welded in for the oil drain!
if not, then you will see the punch and tap method here in a few!
now, before you can install the new k member, its time for the headers! if you live in the salt belt like we do, spray the hell out of the manfold bolts and let them soak, they come out alot easier!
i use my 1/2 impact and a 13mm deep 6 point socket on these, and some the studs will come out, some wont, this is ok! some use new header bolts, i recommend stage 8 locking header bolts, but i have used the stock bolts just fine. and one of them you will be cutting down to fit behind the header, and no you can not use a bolt on it!
you will need to remove the motor mounts to install the bolts/nuts and get them tight!
I do no use the gaskets provided with the kit, i prefer to use percys dead soft, but since have stopped and just use copper rtv. i lay a bead around each port, and let it cure for 10-15 minutes before bolting the headers down fully!
now make sure the heads are nice and clean!
now the driver side is the easy on fellas! you can run into issue removing the dip stick after removing the manfolds, if so have a stock replacement ready, or a lokar unit on hand!
the passenger side is the tricky one! this is where you shorten a stud and start this nut first before any others!
as you can see from the following pics, there is no room to use a bolt! i take a factory stud and shorten it to have just enough room!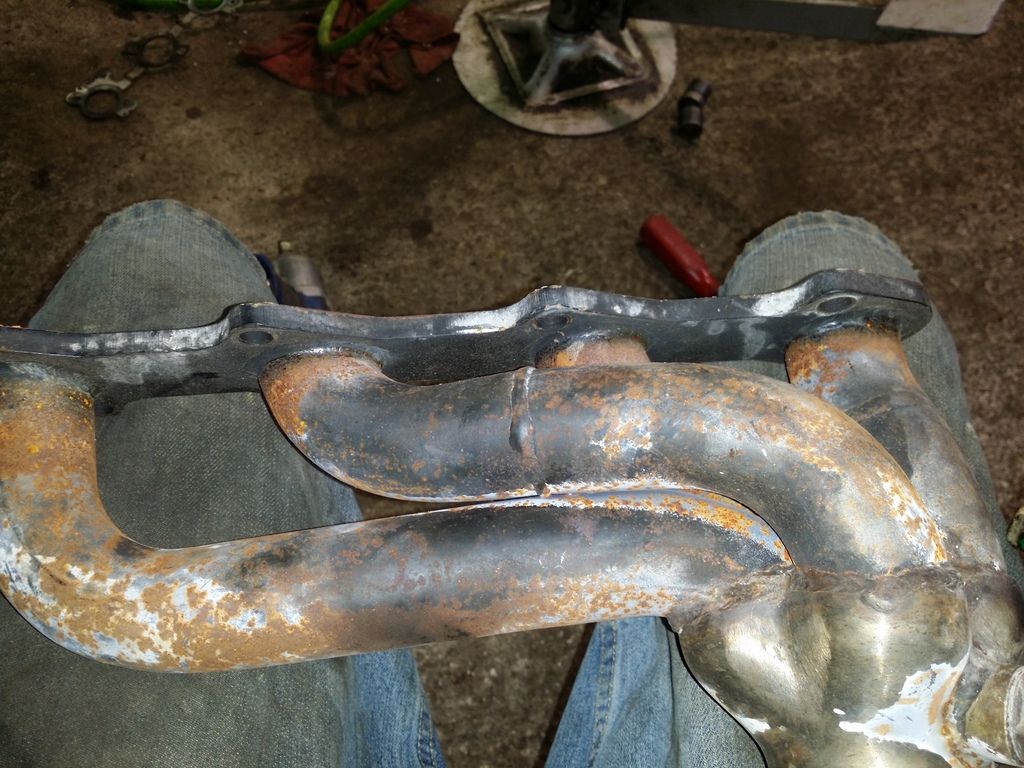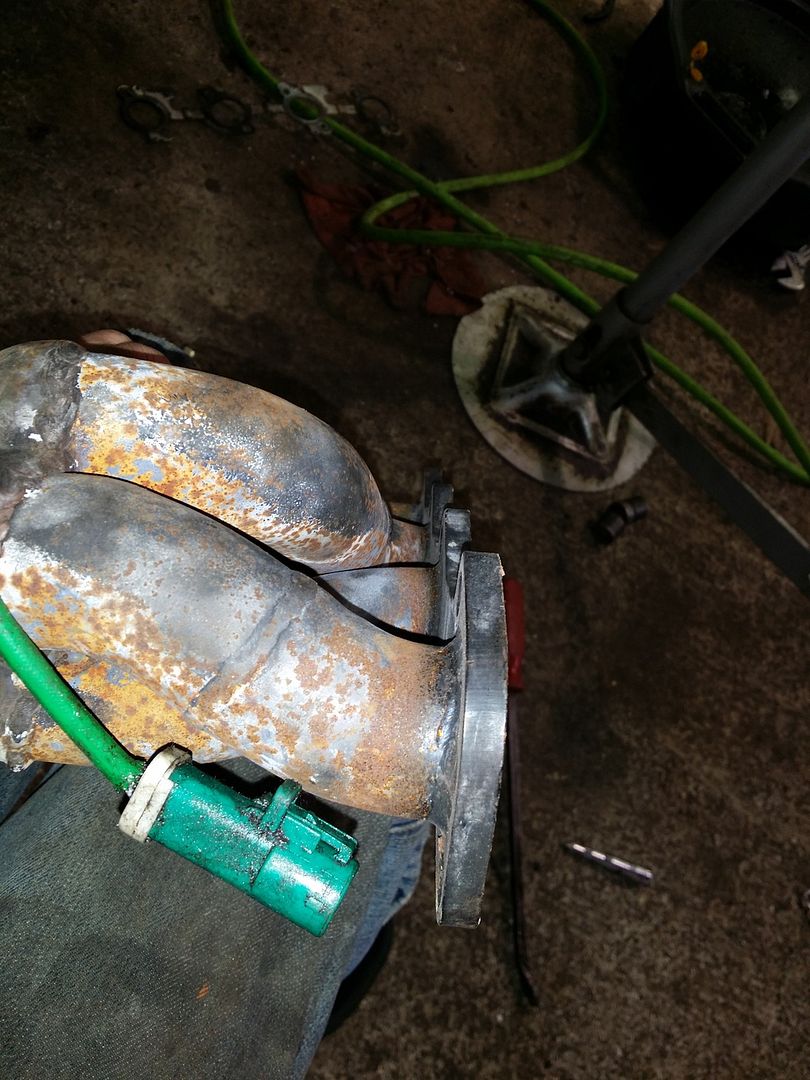 as you can see below, the shortened stud is in its place, and like i was suggesting, start that nut first, it can be tricky, and if you have big hands, it may help to remove the starter!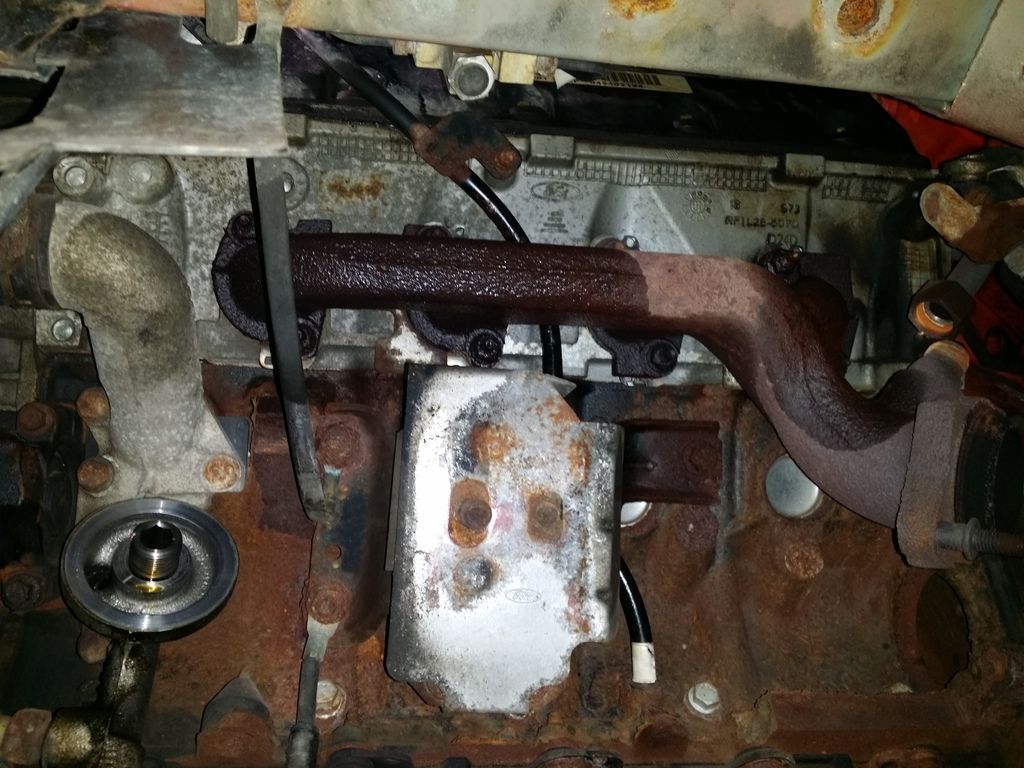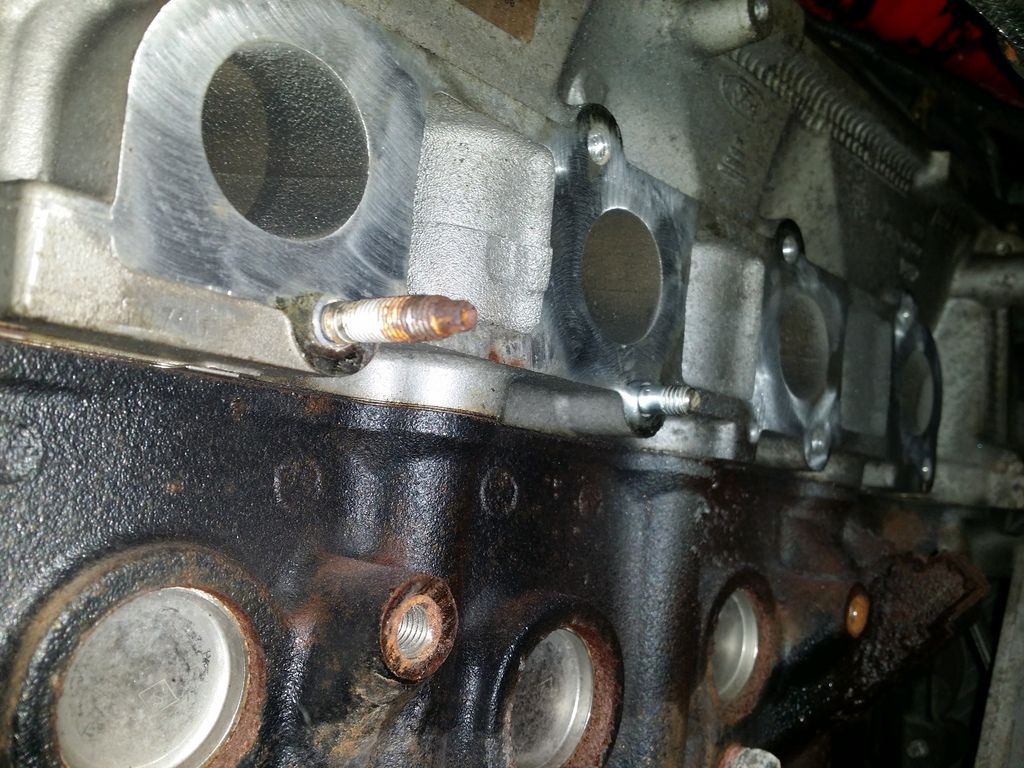 now install the fittings into the oil filter adapter, and install the new k member!, then the arms, then the rack, and rehook your steering shaft up!
now address the clutch cable, remove it from the trans and pull it back out!
i add heat sleeve to the cable and route it like this!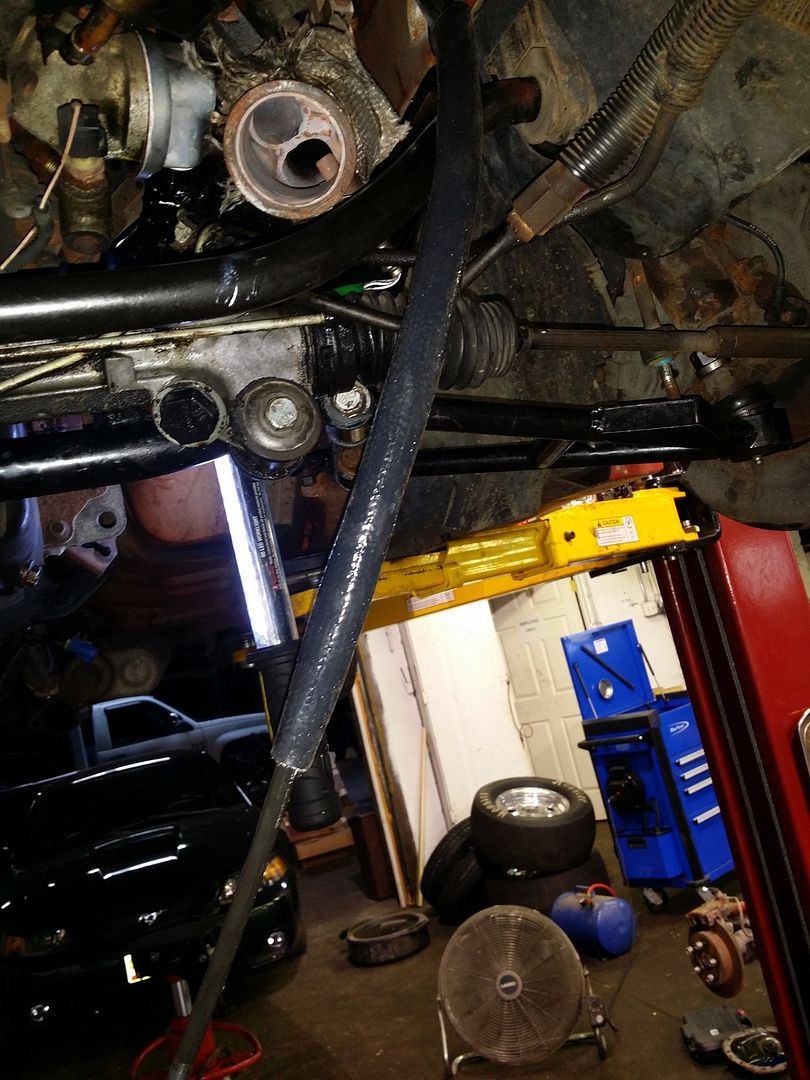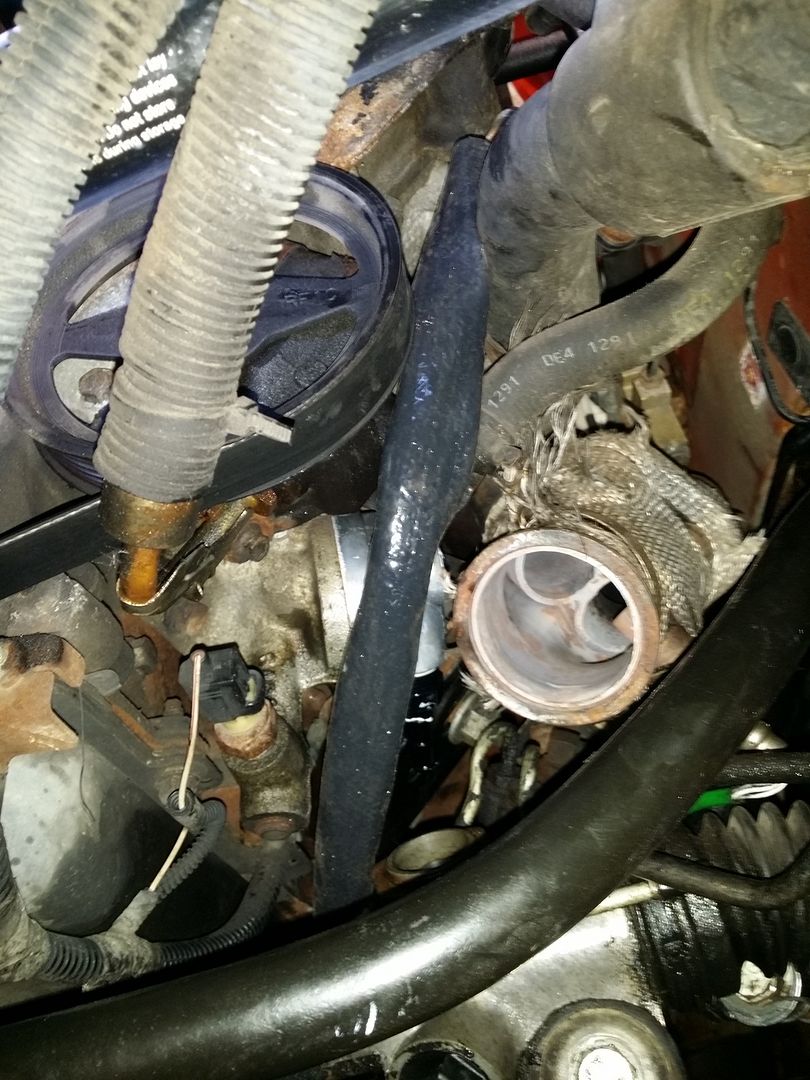 run you oil filter hoses like this!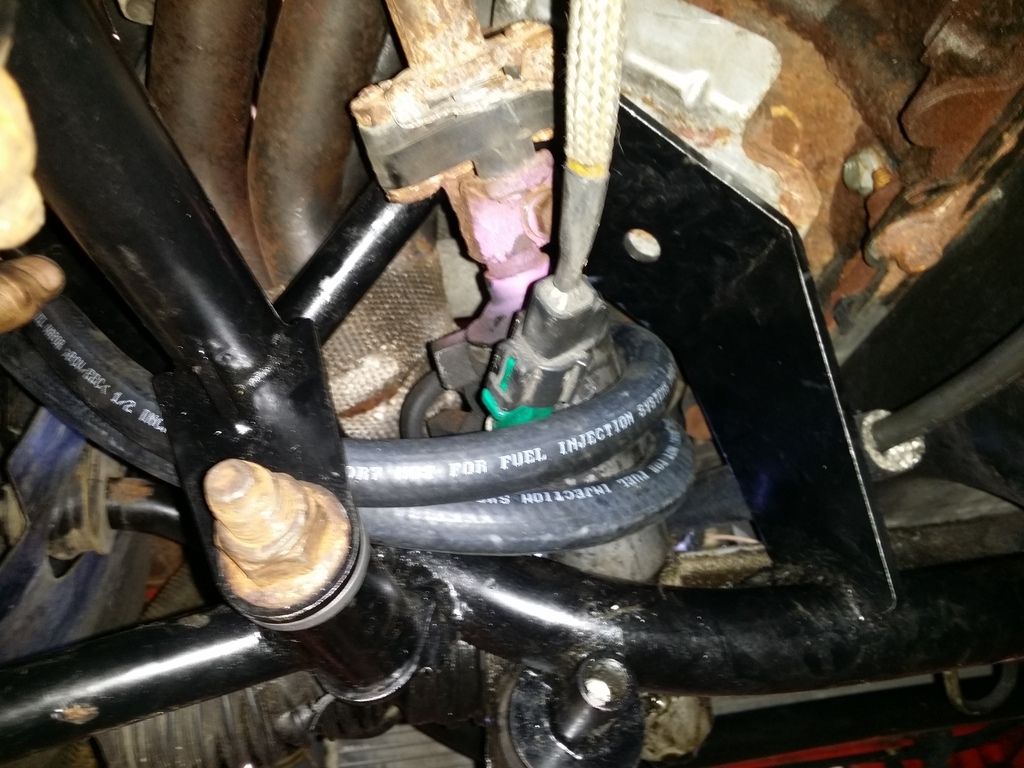 this is the routing if your mounting the filter in the front fender area!
i mount the filter off the trans, its easy to make a bracket to hang the filter adapter like so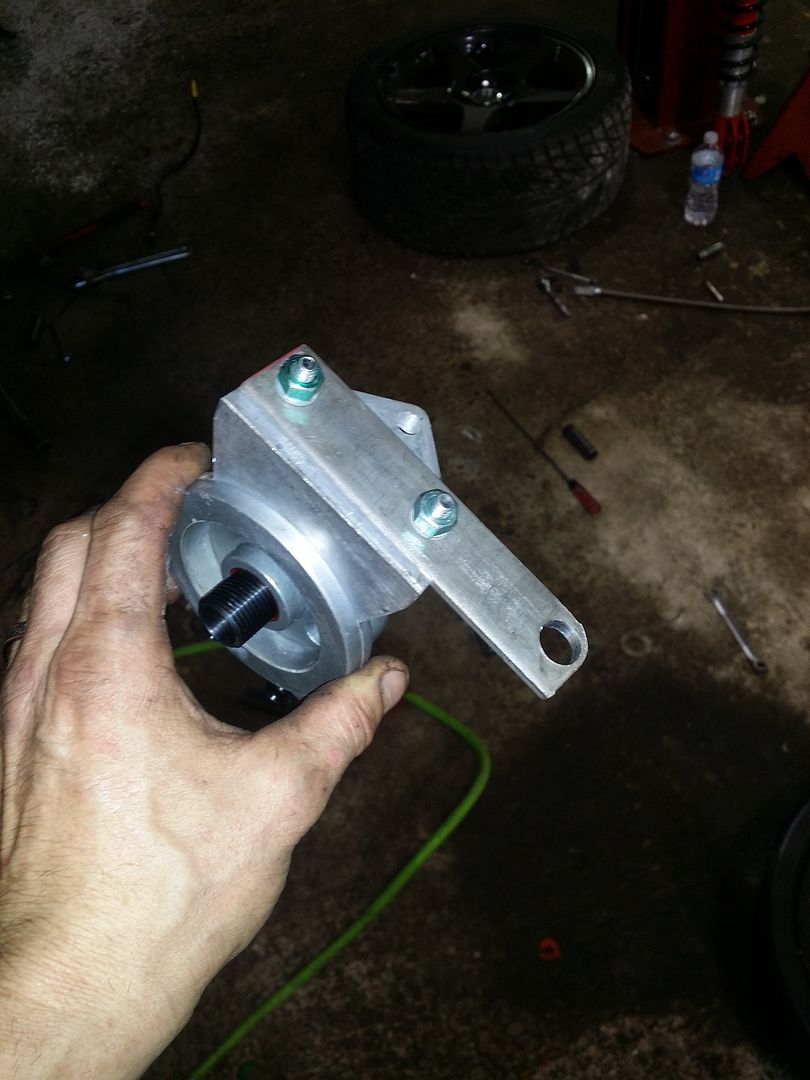 some bending and yweaking to get placement just right!
i use the wix 1516 filter on this, leave plenty of room!
passenger header must be faced correctly!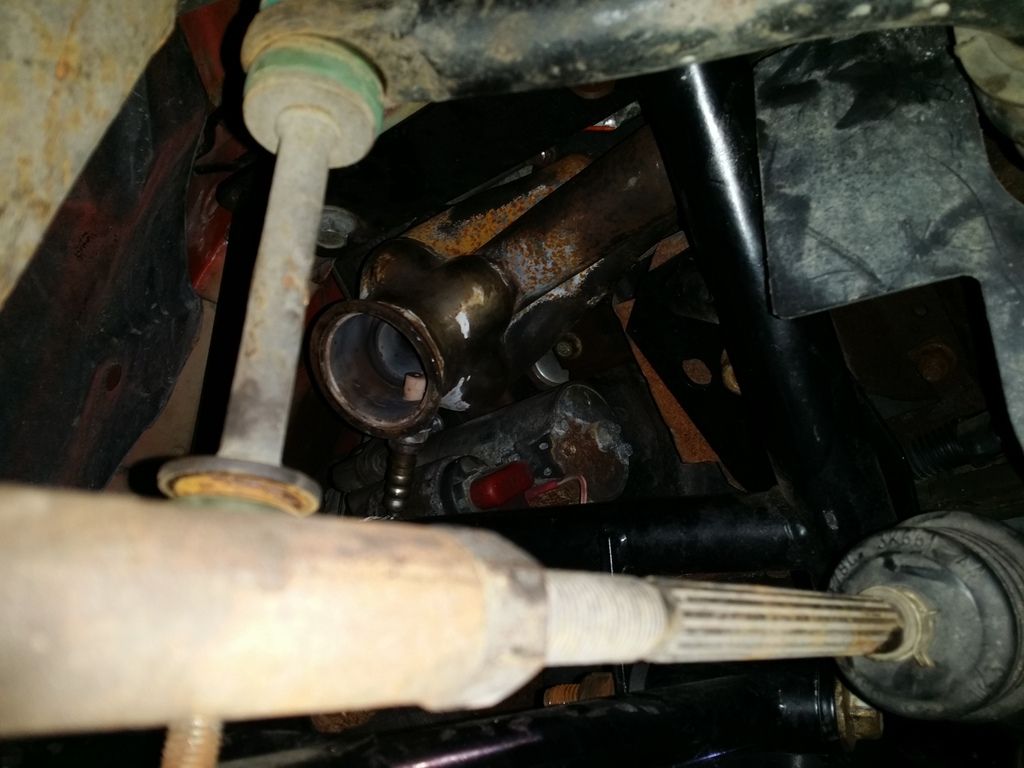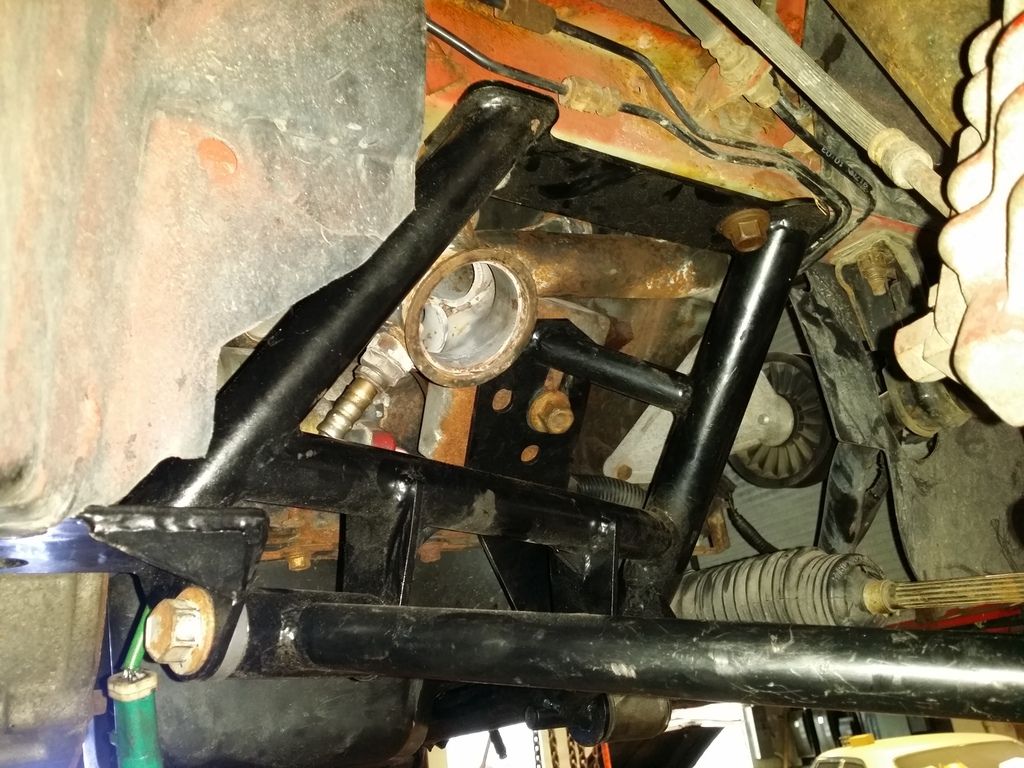 now punch the pan!
i have a nice punch for this, and the tap. using the vortech instructions here will help on the install, i am not going to give the measurements because i honestly i have doen this so much, i dont even measure, and mine come out just fine!
the punch i have is nice and stepped, i start with a small punch, and then use this!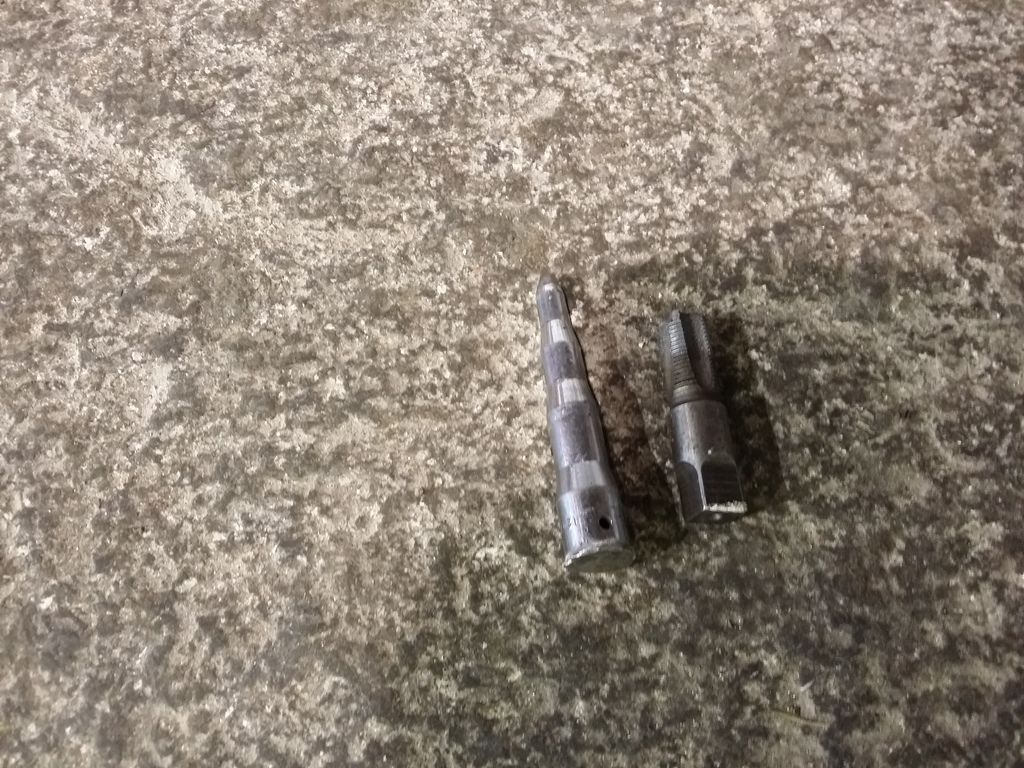 grease the tap real good and it keeps metal from getting in the pan, i much prefer to pull the pan and weld in a bung, i use a large bung with 1/2 threads when i do it, and i upgrade the drain to 10an hose, normally a 45 degree fitting just clears the balancer just right in most cases, but not all!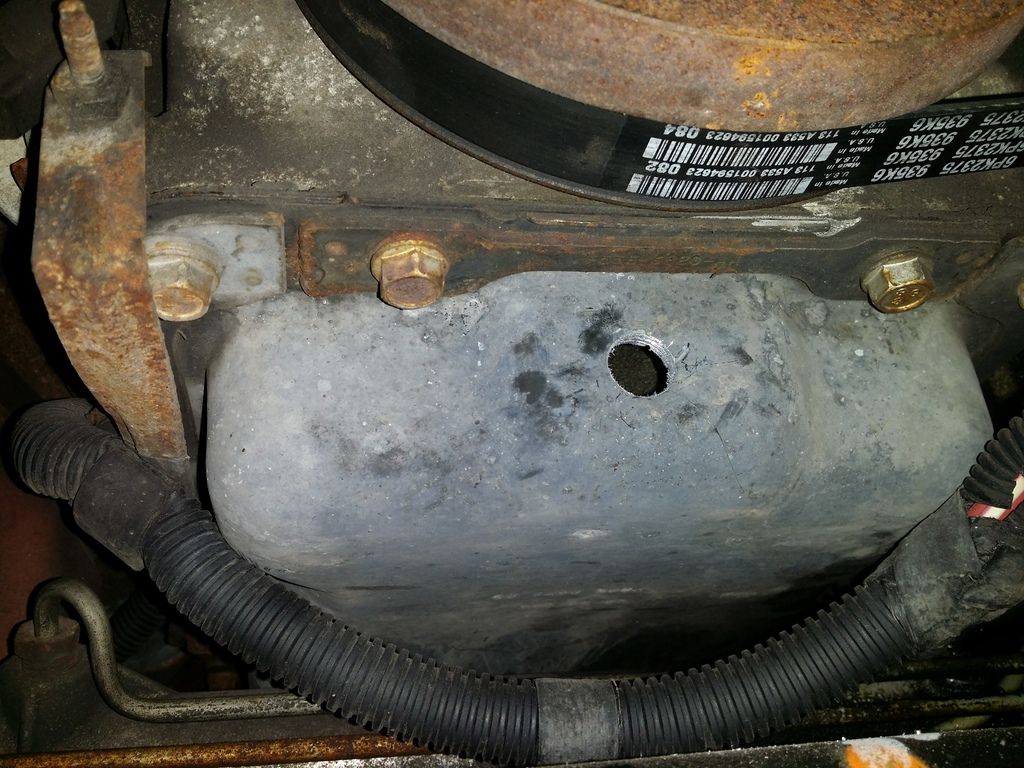 this is what you get once its tapped, and make sure you use lots of tap/pipe sealer on all the threads so you dont have leaks!
Site Admin
Posts: 219
Joined: Thu Apr 24, 2008 5:29 am
---
if doing the twin kit, now go to the page below and following the guide from there, if you read thru the next phases here , it can help you in the rest of the install for the twins
http://gearheadbuilt.com/forum/viewtopic.php?f=8&t=67
Pre assembly stuff!
and some other tips!
before i move on, these are the pre assembly things you can do, to help along the process!
go ahead and install the bov to it flange and get it all tight, install the fitting to it as well for the vacuum hose!
im covering this stuff breafly for everyone!
red lock tight the oil filter relocation pieces!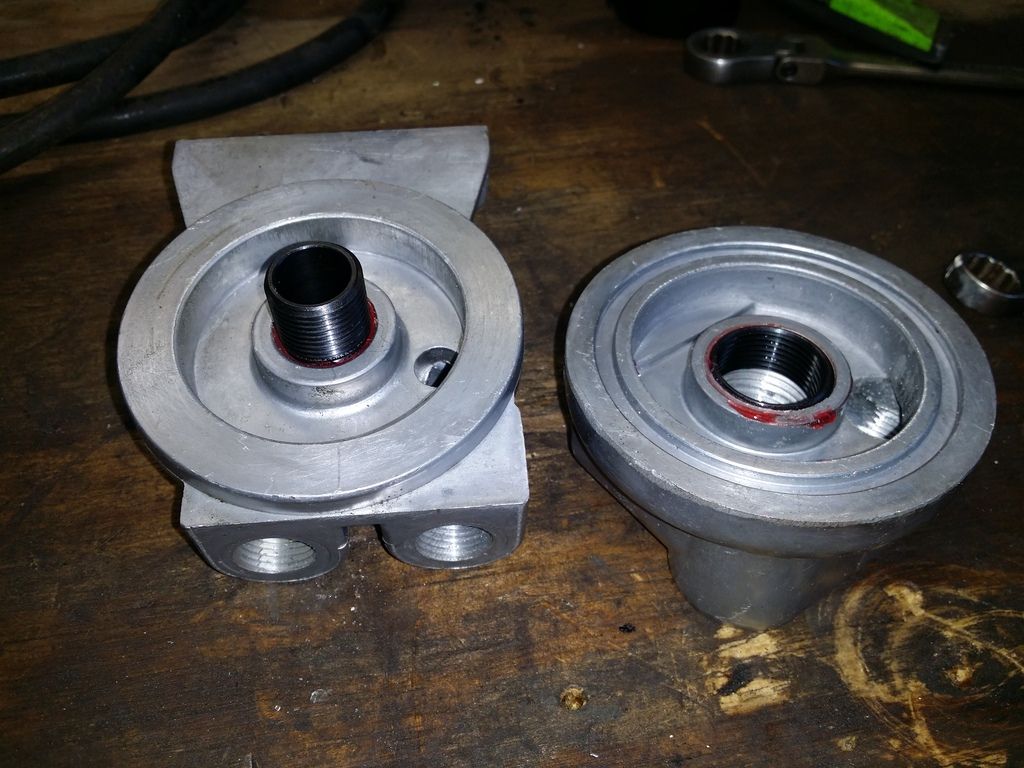 i prefer to use thread sealer on every thing, and plenty of it, and you want it dry before you fire it up!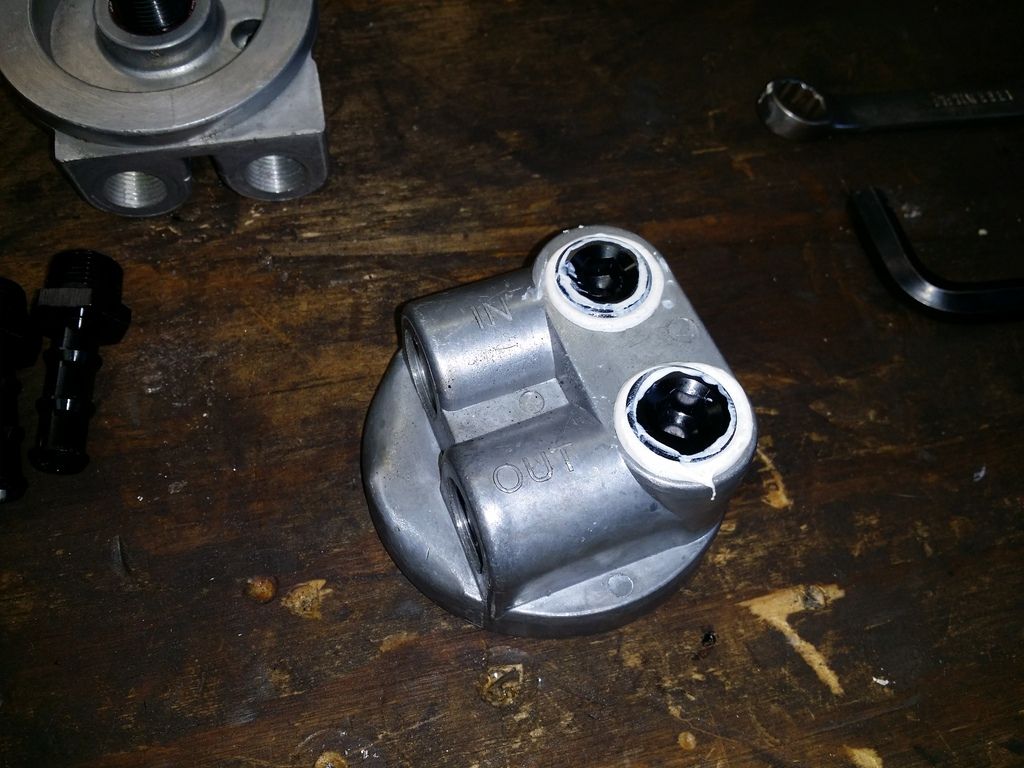 i install the fittings into the block side adaptor right before the k member goes in, this can be done after the k member, but its much easier for most to do this before hand!
now break the turbo and oil and drain kit out!
go ahead and thread sealer the drain fitting and attach it to the turbo, and now you can start clocking the turbo for install!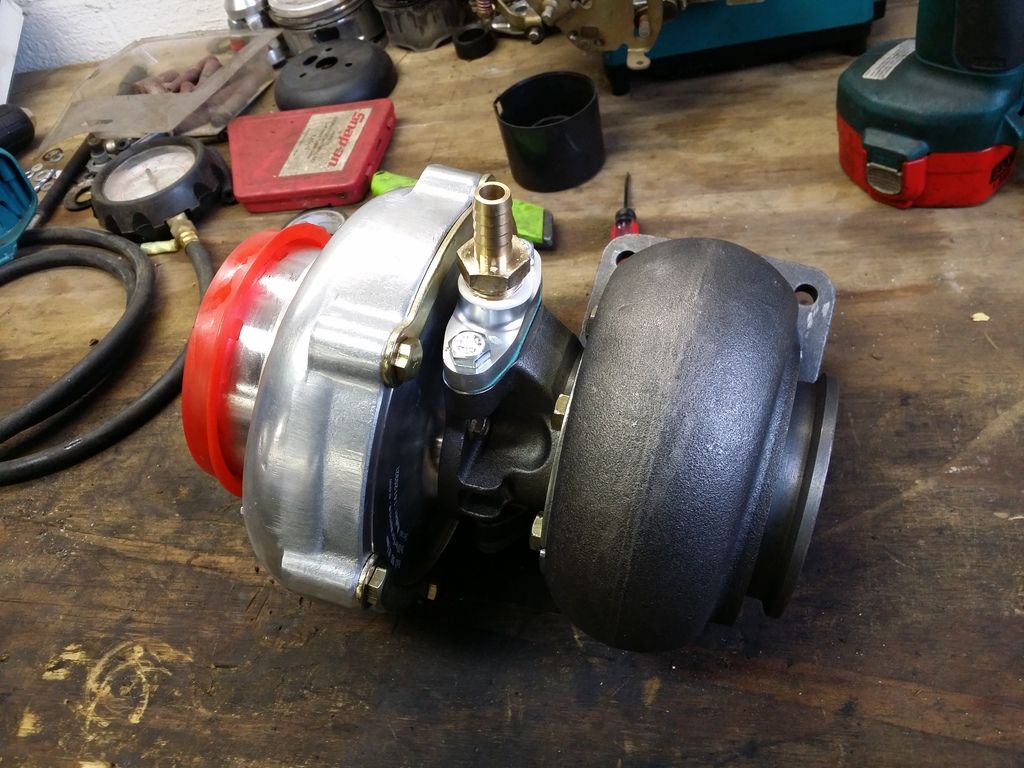 this is about close to hot the side should be, cold side is way off!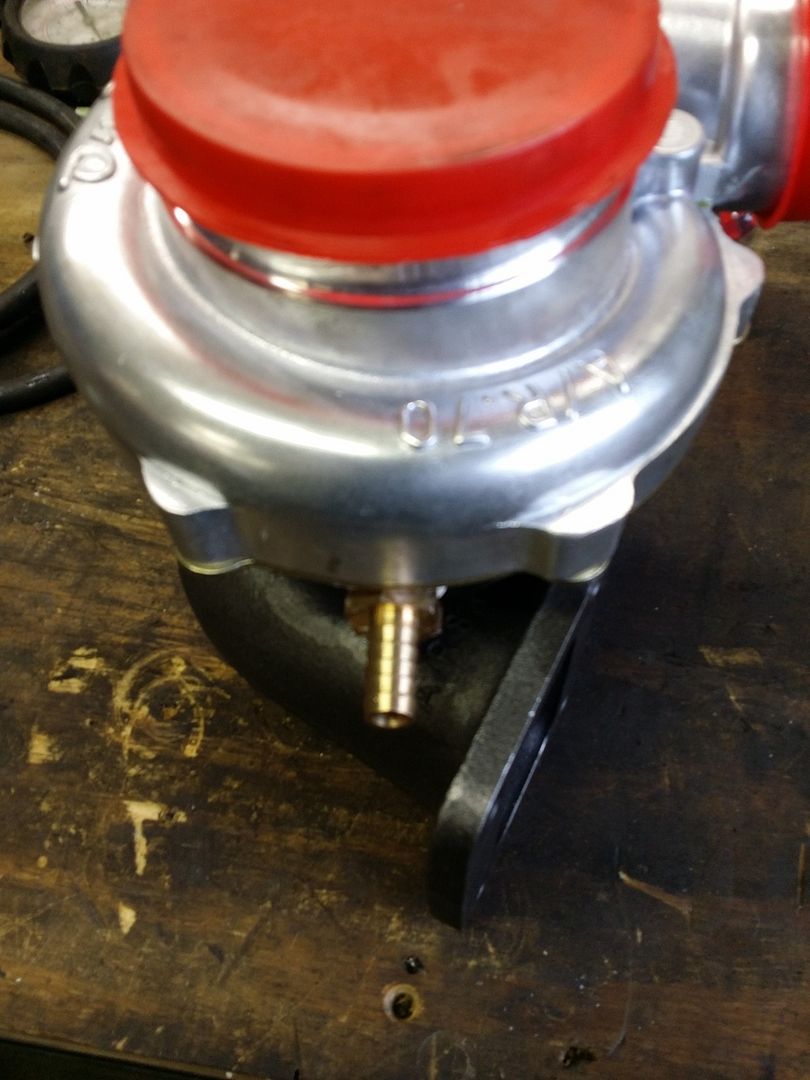 USE THE METAL GASKET AT THE TURBO TO HOT SIDE PIPE!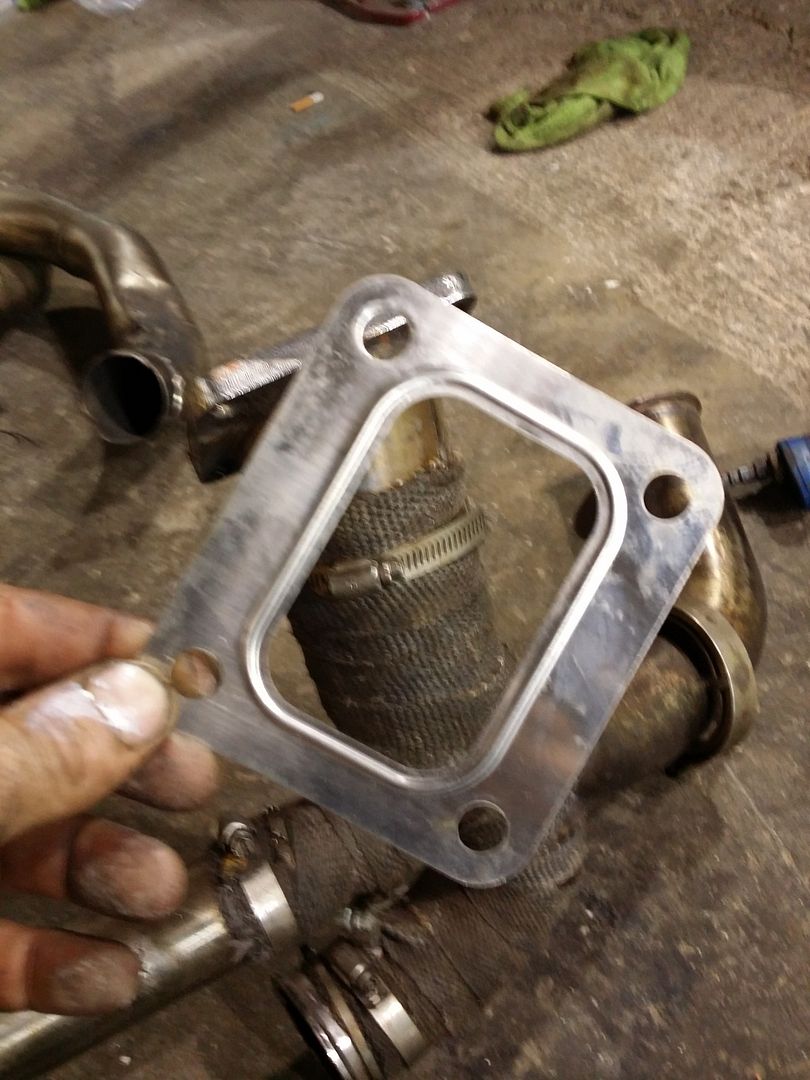 One thing i always do, is use ultra copper rtv on every thing that seals, this works on the v band joints too!
put some on both sides of the metal gasket , and let it cure for about 10- 15 minutes!
then mount the hot side of the turbo to it like so!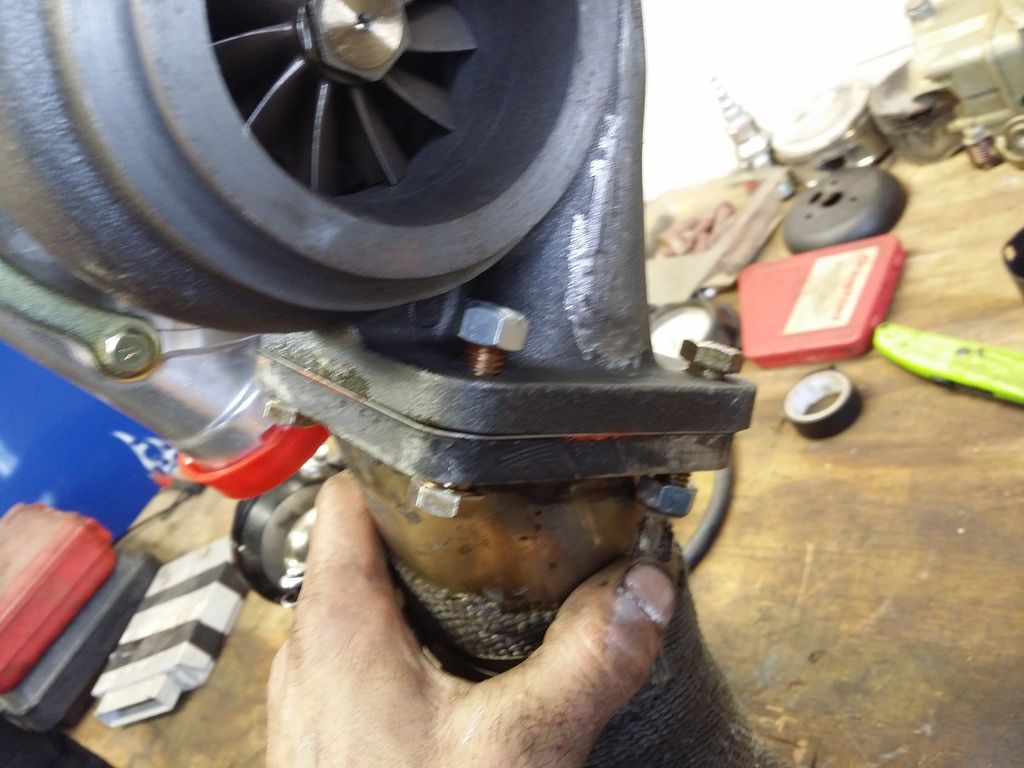 pay close attention to the bolts and nuts here, these are locking jam nuts, if you do not use these, they will come apart and you will be cussing trying to get bolts in, with out taking the hot side back out!
get the bolts really tight!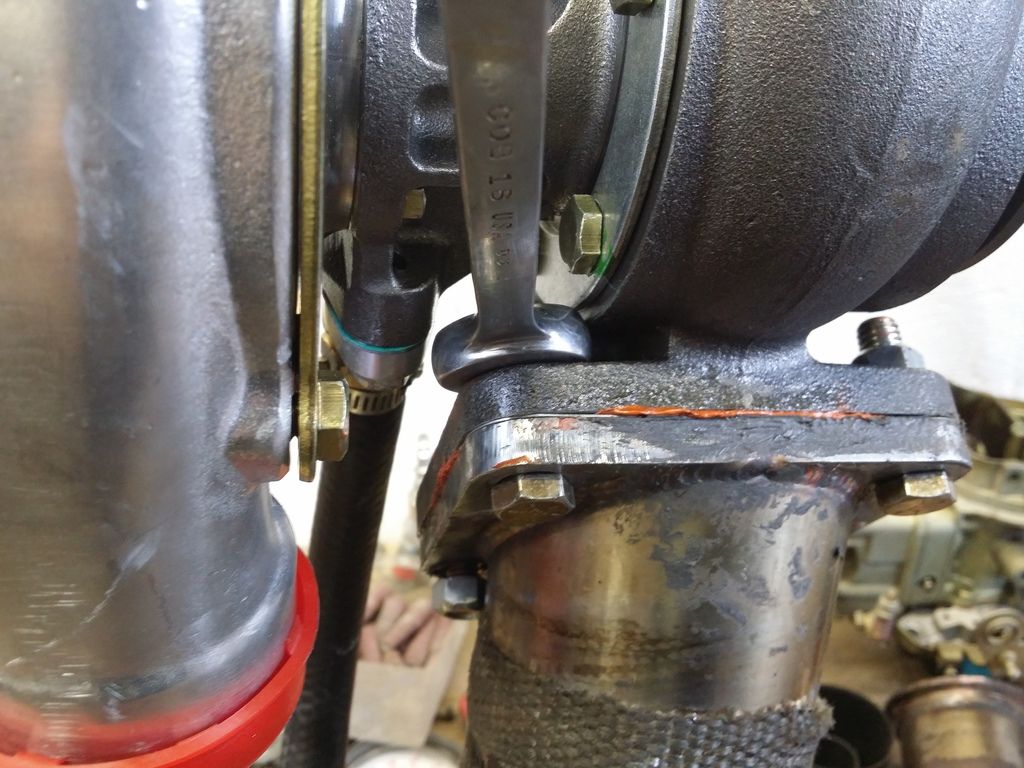 now you can clock the turbo around more, and install the drain hose to the bottom of the turbo!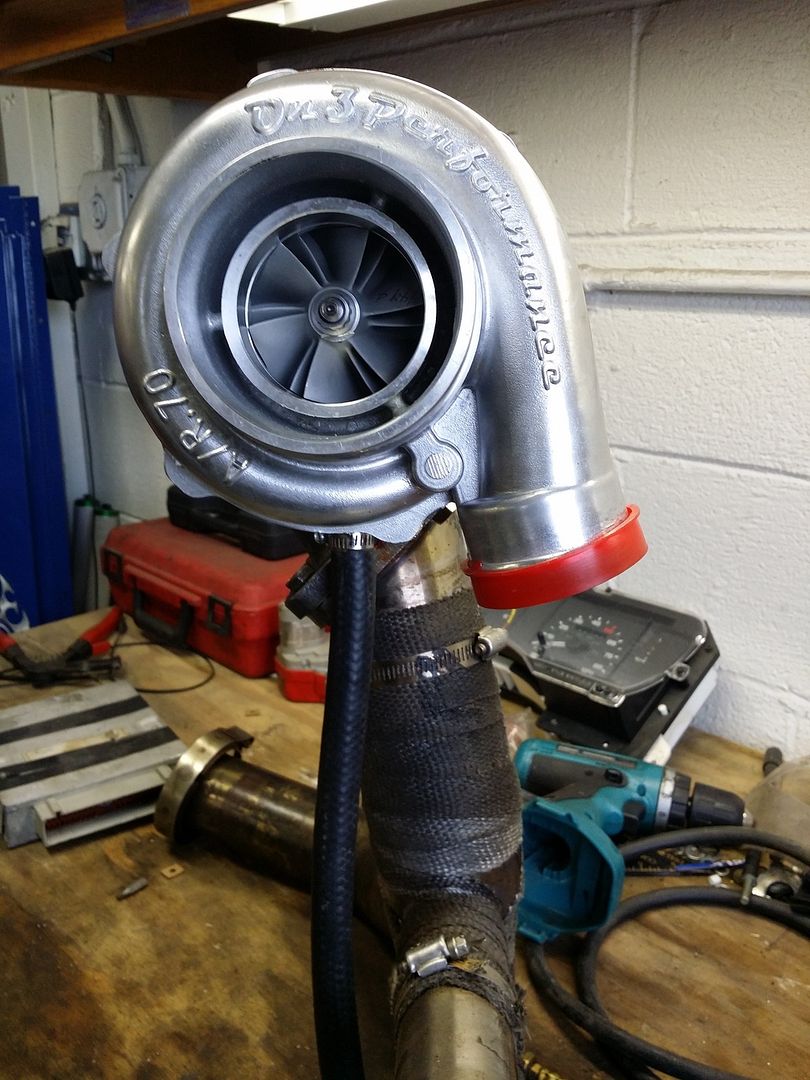 install the oil feed plate, this should be a resistor is you ordered the ball bearing upgrade like i suggested from the get go!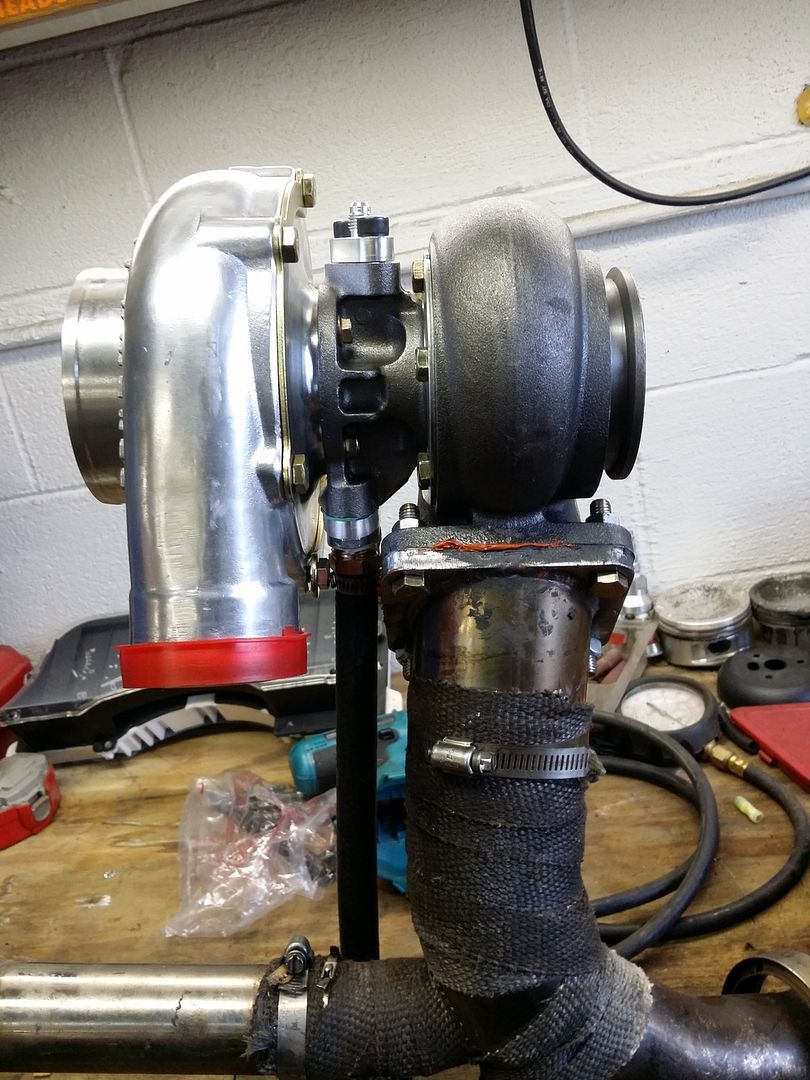 before you mount the waste gate, look down the tube and make sure the pipe has been opened up all the way so you get proper flow, 90% of the boost creep issues i see are because this area was not cut open all the way!
now this kit creeped badly, enough so it made 550ftlb by 4500rpm on the dyno! this very well can knock a rod right out of your car! so please check this before installing!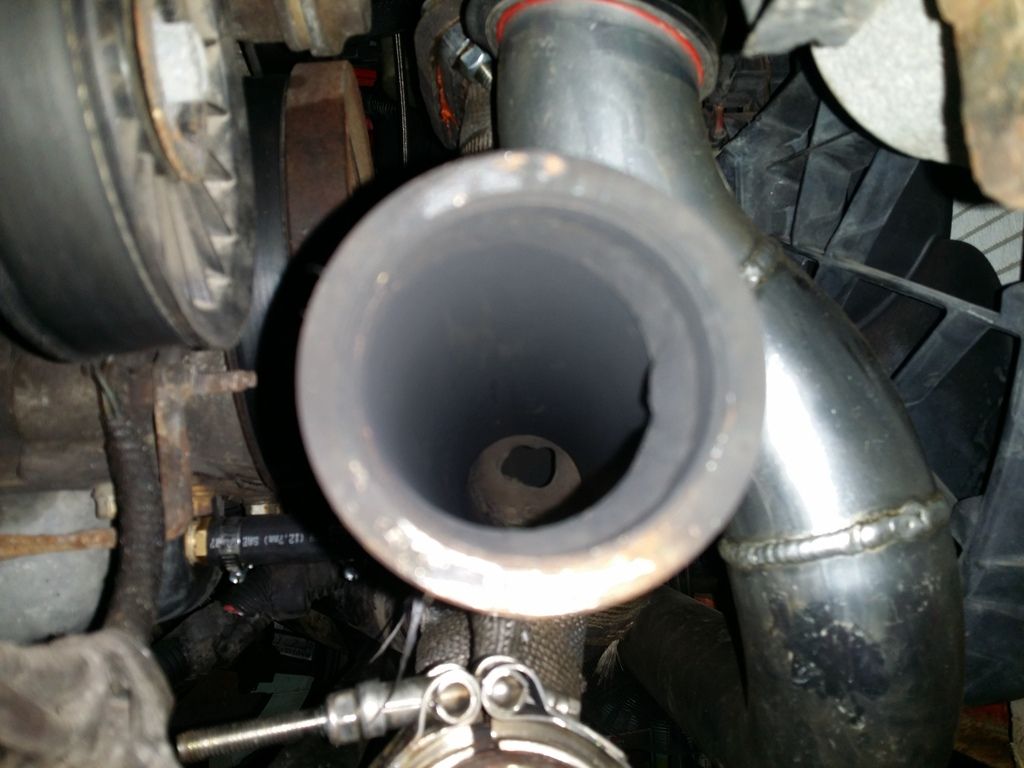 i did this in the car, so i had to cut the pipe in half, just to i could get my long barrel grinder down in there to open the hole up!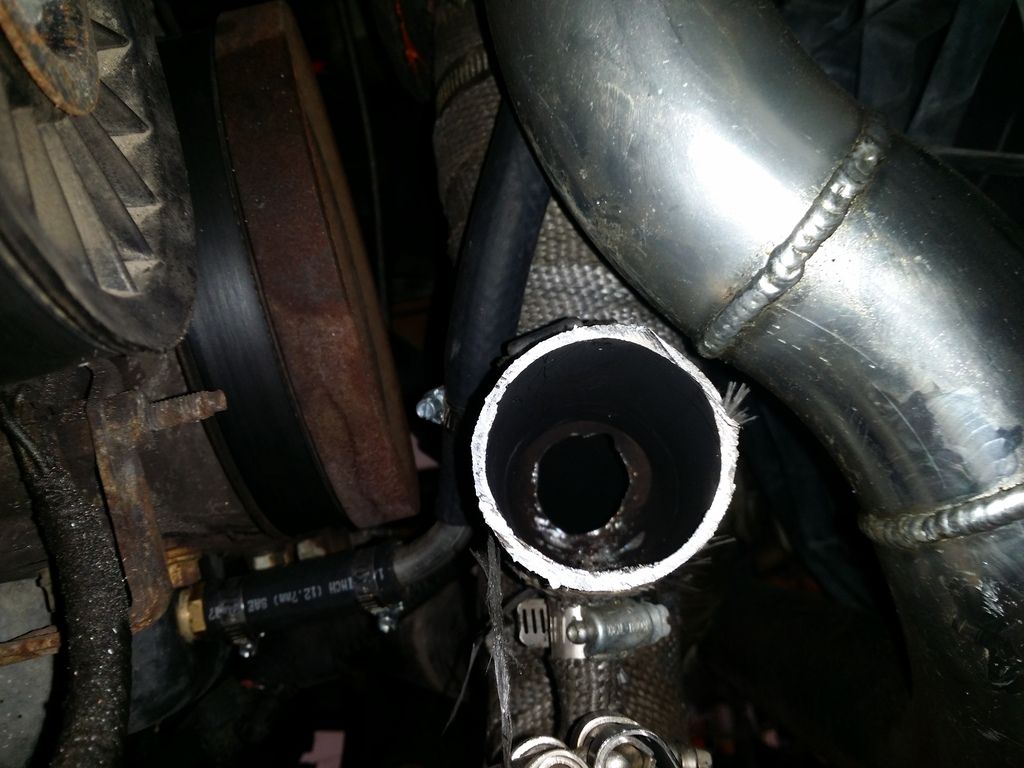 now you can mount the waste gate to what i call the hot side assembly!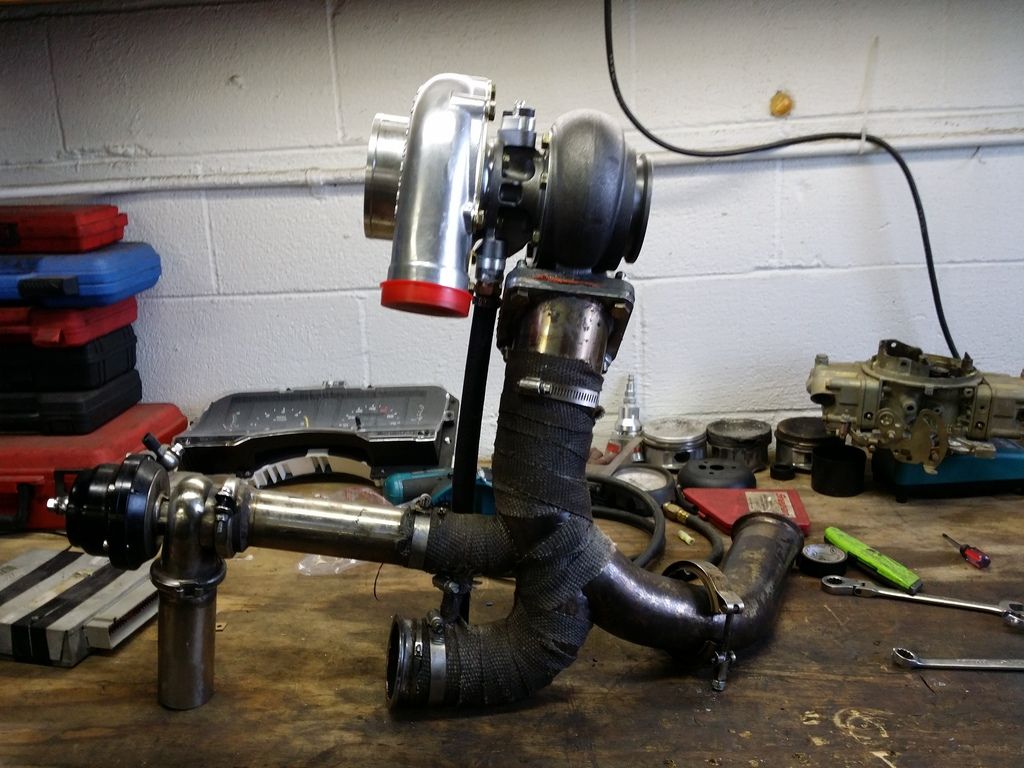 as you can see, this is a used kit in this install, and some of the hot side assembly is wrapped!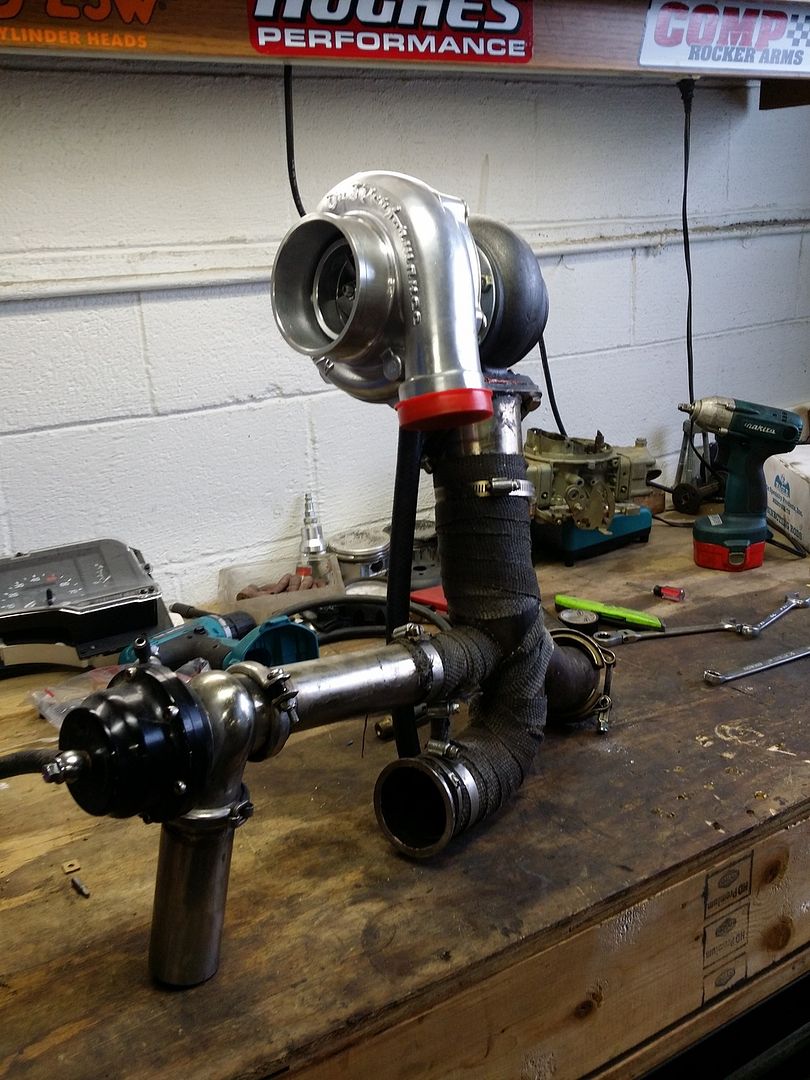 now this is not 100% clocked in any way, leave the bolts for clocking the turbo loose, so once its in the car, you can clock it 100% of the way and get it just right, and then tighten it all up!
Site Admin
Posts: 219
Joined: Thu Apr 24, 2008 5:29 am
---
now this is where you might need as freind to help!
put a v band clamp on the driver side header, and take the turbo assmebly and stove it up in from the bottom of the car! line up your driver side v band and tighten it up, then loosen it some, make sure its lined up (have you buddy start the v band, or help hold the hot side assembly in place for you!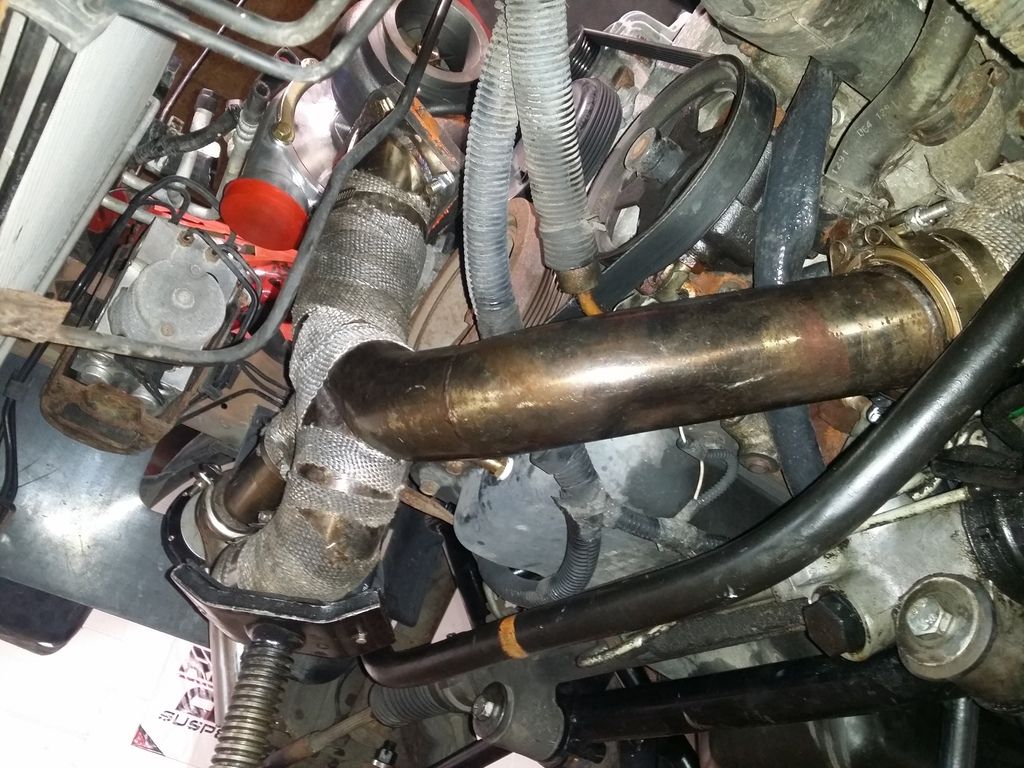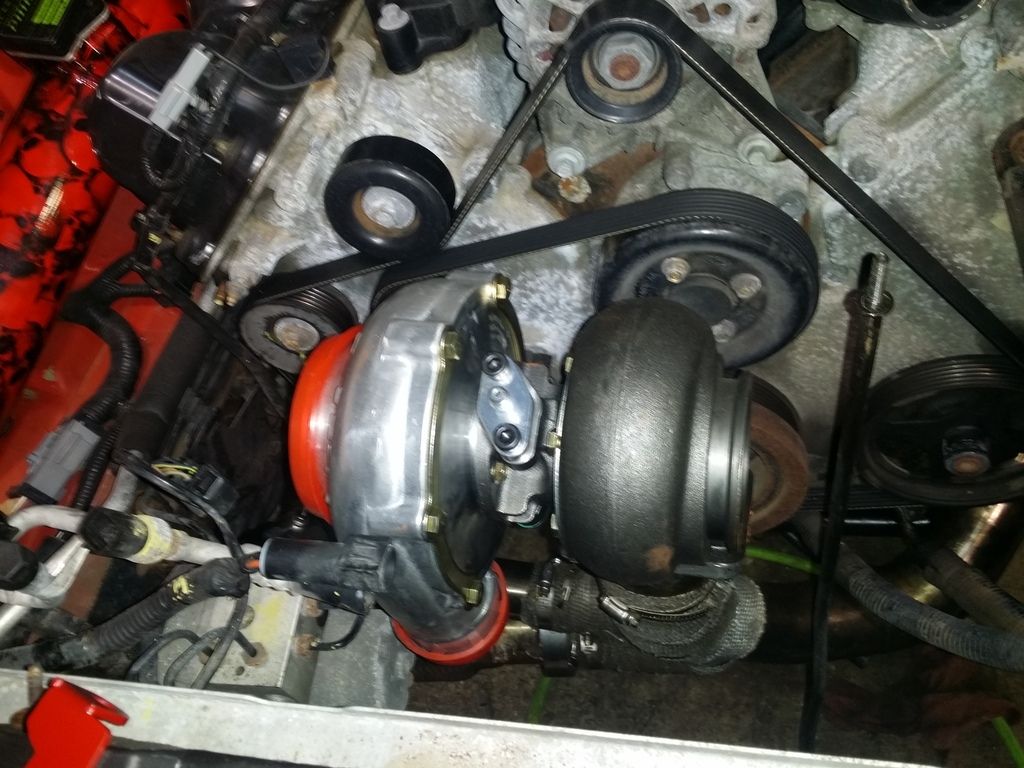 as you can see its not clocked 1005 correctly, your turbo feed and drain need to be striaght up and down, but thats ok at this point because you left the bolts loose so you can clock every thing now, the cold side housing will get clocked in the next step
then shuffle up top and mount the turbo suport bracket to the alternator and turbo as you can see below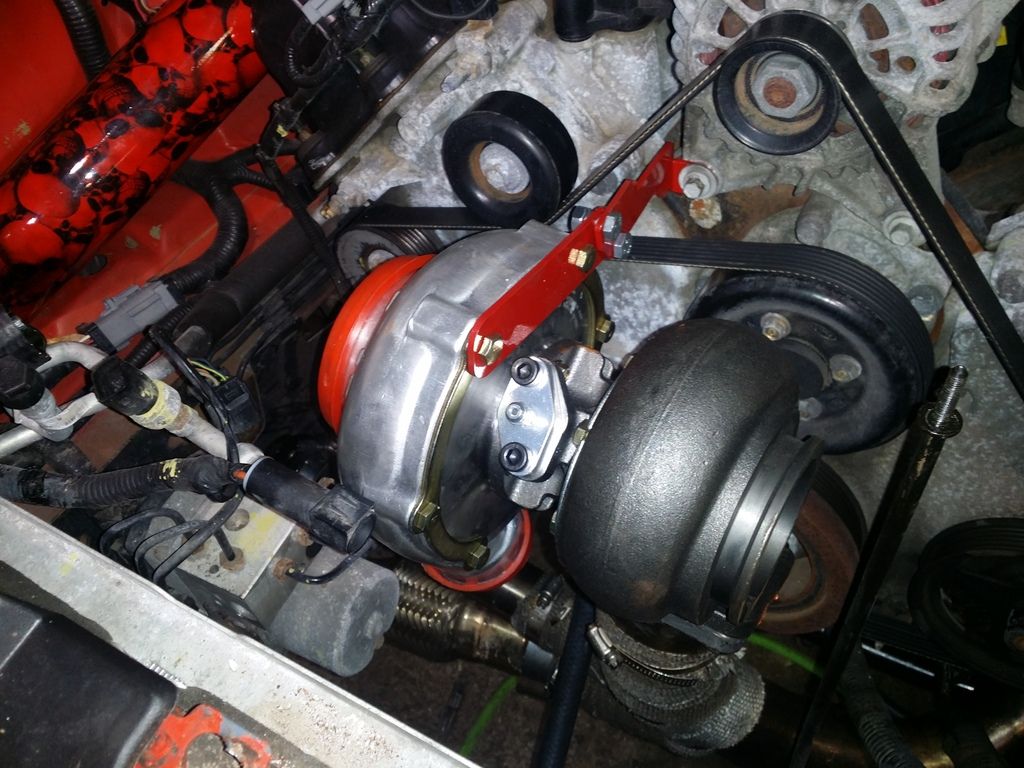 now lcok the turbo to where the oil feed and drain are striaght up and down with the car (car needs to be level for this people, and if the feed and drain are not correct, you will have oiling issues and you will kill the turbo!
now you can install the passenger side hot side merge pipe, get a v band clamp on the passenger side header, and mount the pipe, i have found sometimes these all line up just right, some times they do not!(im speaking about lining up at the hot side assm. now you can wiggle things around because you left the driver side v band loose! if its way off, i have cut the merge pipe behind the flex section, then lined up all the v bands and sleeved and welding that merge back up (i will try to find the pic i have of this and add them into this section later)
now you can run the oil feed and drain hoses making sure every thing clears the hot side piping and the crank pulley
install the upper protion of the down pipen to the turbo!
install the mid section of the down pipe to it
install the rear section with the y pipe next
all of these use the band clamps, which will slip apart, get every thing lined up before you tighten them up completely, and i always put some spot welds on these band to the tubing so they do not come apart, and yes if you dont, they will!
hot side should be pretty much done at this point!
if you havent already, remove your struts and install the coil overs! i highly recommend using a 4 bolt camber caster plate such has the maximum motorsports ones!
also be careful fitting the coil over to the oe struts! knocking that plate off the top that wont allow the coil over sleeve to go down over the strut, can and will damage the strut, and new struts are cheap, on this install we used a single adjustable strut!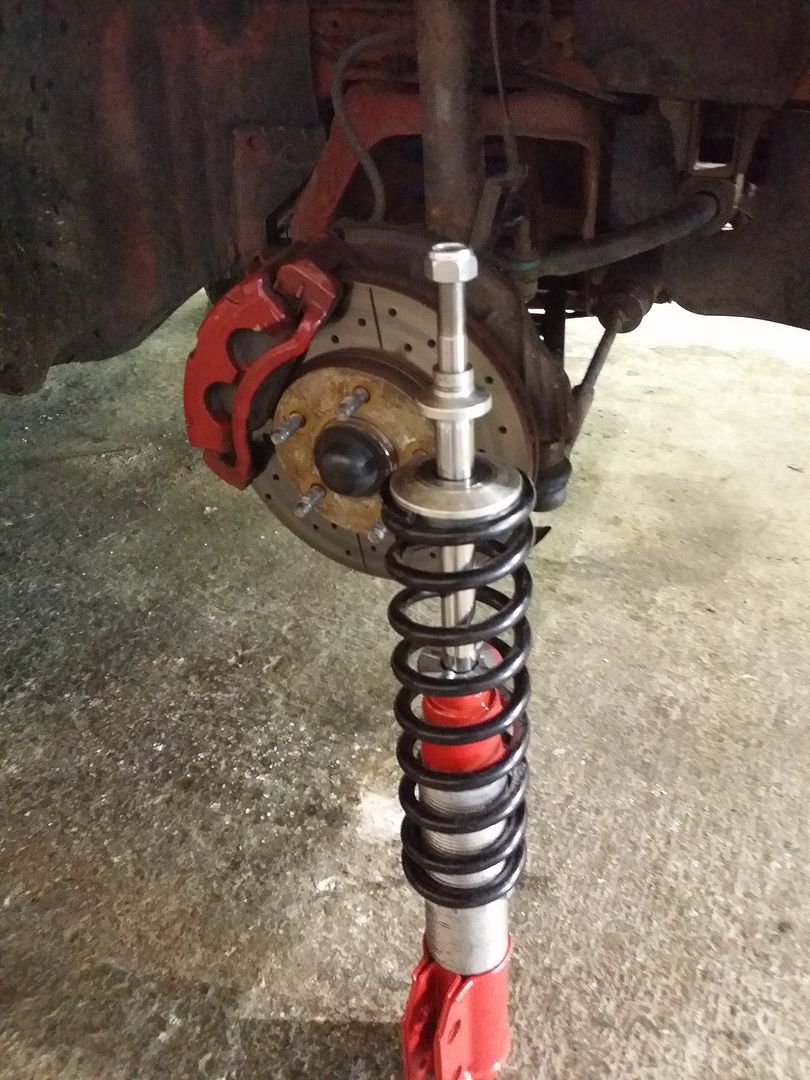 now lets move onto the cold side!
mount the intercooler! the kit comes with lower brackets only, i have seen several ways of bracing the top part, and im not going to get into that right atm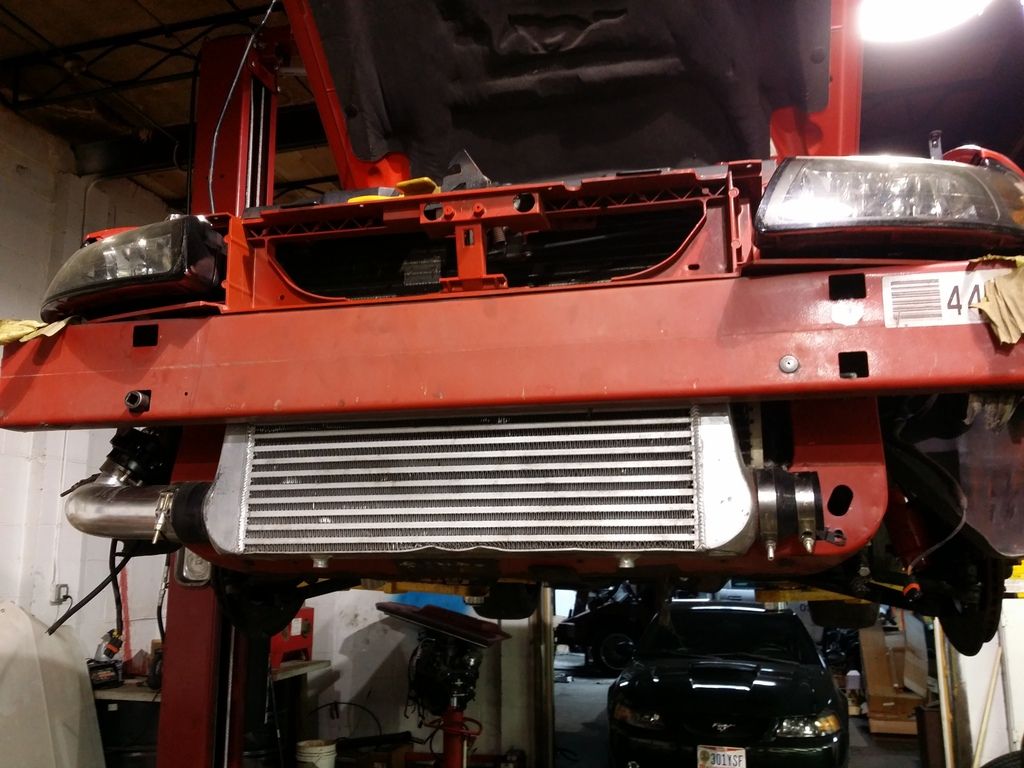 now since we use the slot meter in all our builds, we normally test fit this pipe first, and place the maf on the bottom side in the straight section, and make sure you have the flange going the proper direction before welding! this was a used kit that had a pro m maf flange pre welded, and yes we offer pre welding the flange to the tubing correctly and we also offer custom hydro dipping to the charge pipe and coolant pipe as well!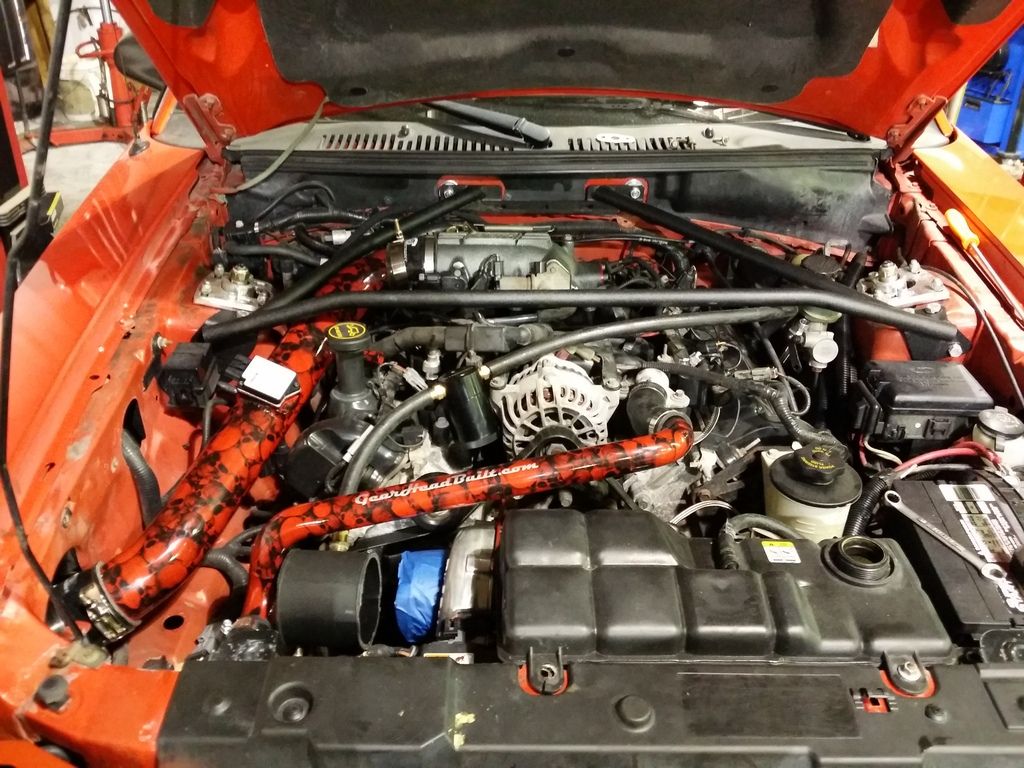 running the slot meter kit on the 99-04 make life easy as well, the instructions provided will show you how to wire it and the iat sensor into the slot meter!
(i will add that here at a later date)
i install the 2.5 coupler to the turbo with a clamp, then install the 90 pipe from the intercooler next,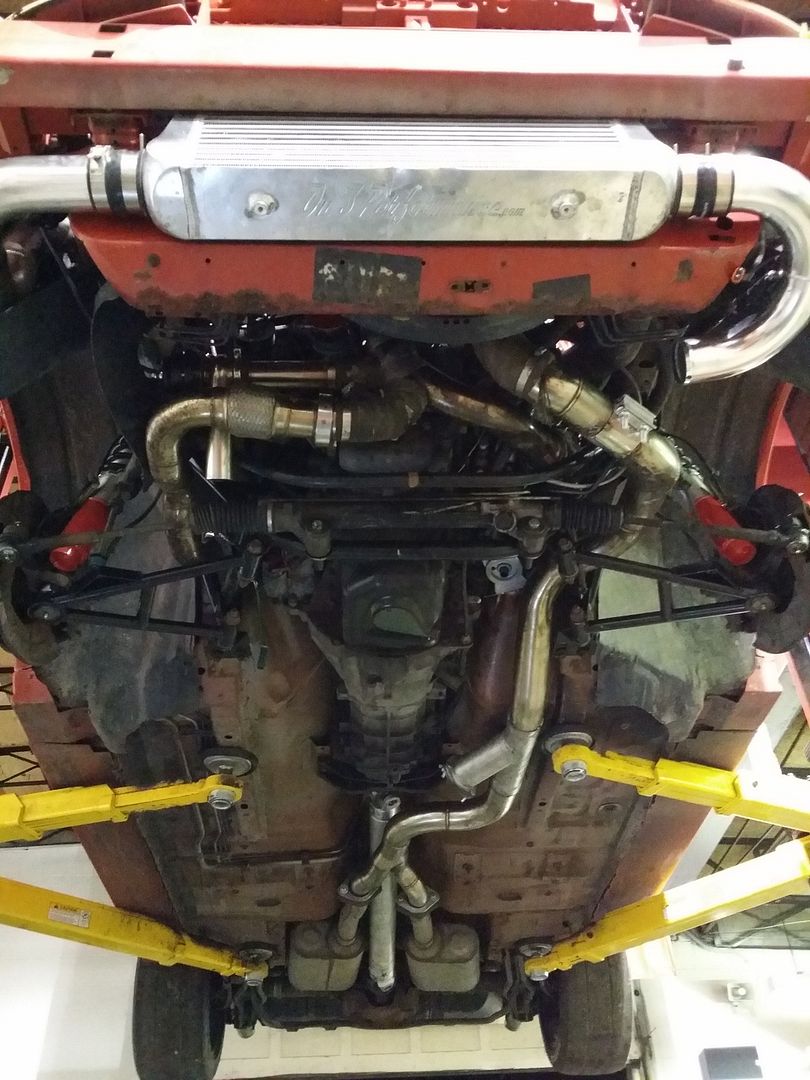 now since this was a used kit, it had a piece bolted to the top of the intercooler that hung it from the bumper bracing! now is the time to bolt the 2 support brackets provided and drill holes in the bottom of the core suport and attach it to the car
this is where i reinstall the stock cooling fan. you can bring it in from the bottom very easy, it will not come in from the top
the trick to this is to tip the passenger side of the fan striaght up then once the fan is close to being in place, rotate it into place and juggle it back into the sotkc mounts and dont forget to plug it in!
this build got the 4" intercooler upgrade! this mod here to the bumper support brace can be done to get more air to the intercooler!
then since most of the foam has the tabs broken, we tape the foam back to the support brace like so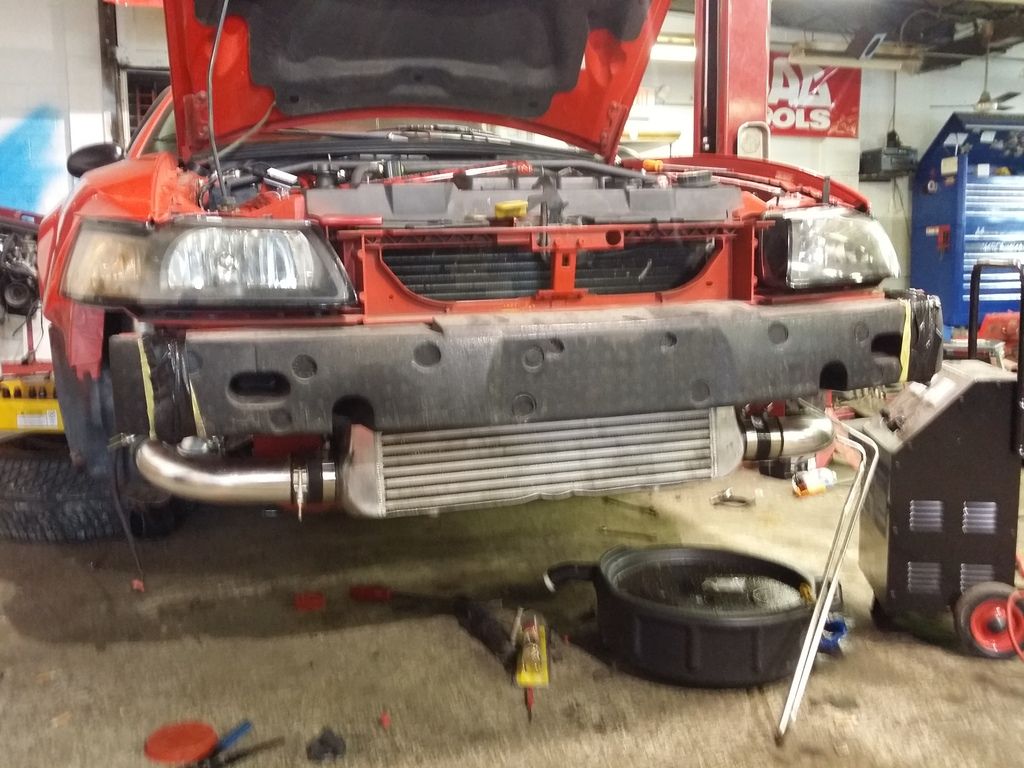 now you can finish installing the rest of the charge piping and coupler and clamps on the cold side!
this is how i do the power steering cooler, get you some cushion clamps and attach it like this!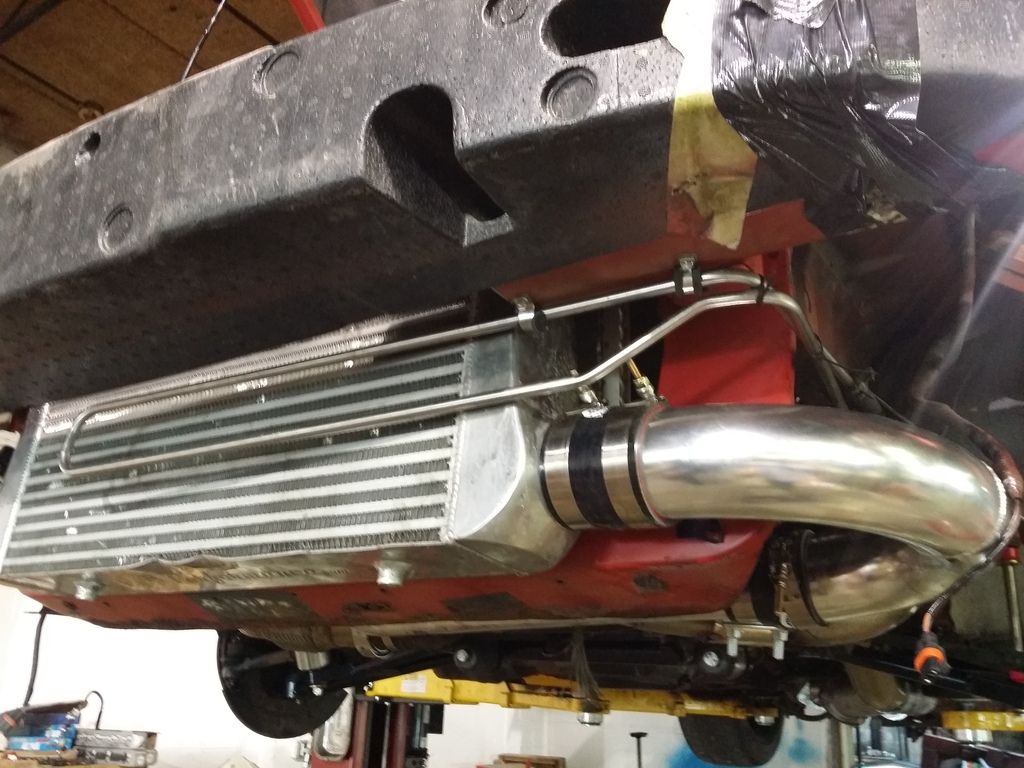 you can see here how much more room there is for air to flow to just just the intercooler, but every thing behind it! you dont have to do this, but i highly suggest it if running the 4" upgrade intercooler, because it cuts off the air flow to the upper half!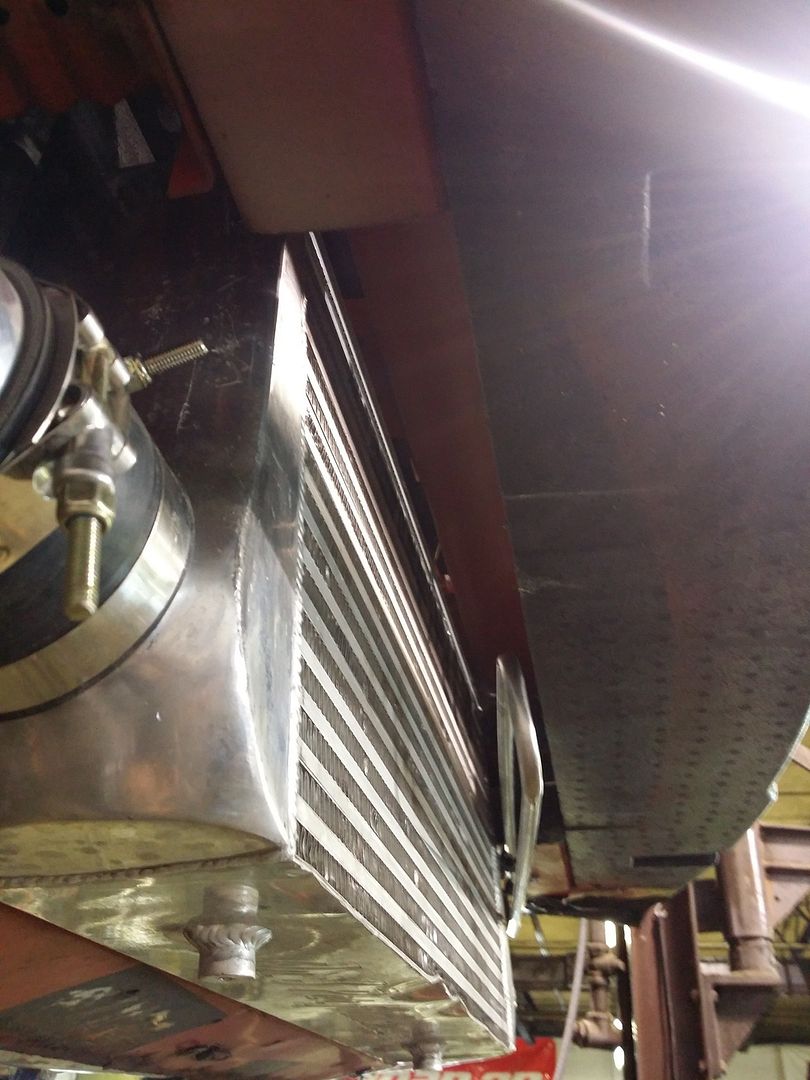 now the coolant pipe for the upper raditor hose was designed around the later cars! it can be trimmed and made to work just fine! as you will see in this pic here, the other option on the early car is to get the t stat housing the is angled out to the driver side, but your current one can be made to work!
heres the mis match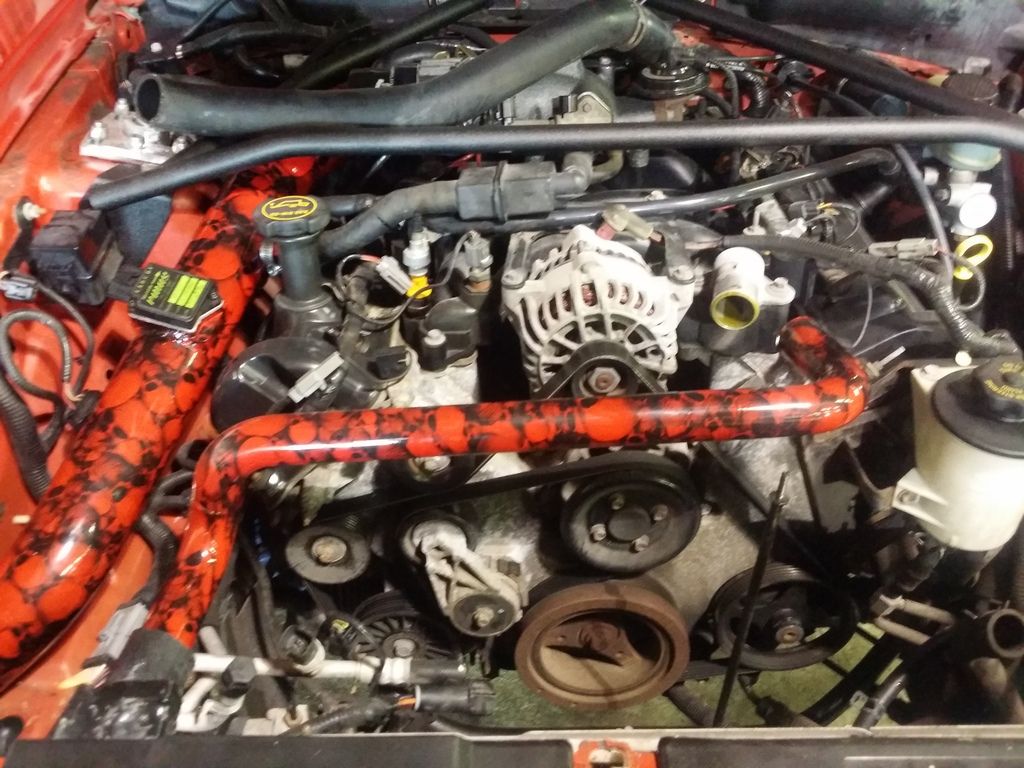 trimming the ends of the tubing down, and cutting up the stock hose just right, it can work just fine!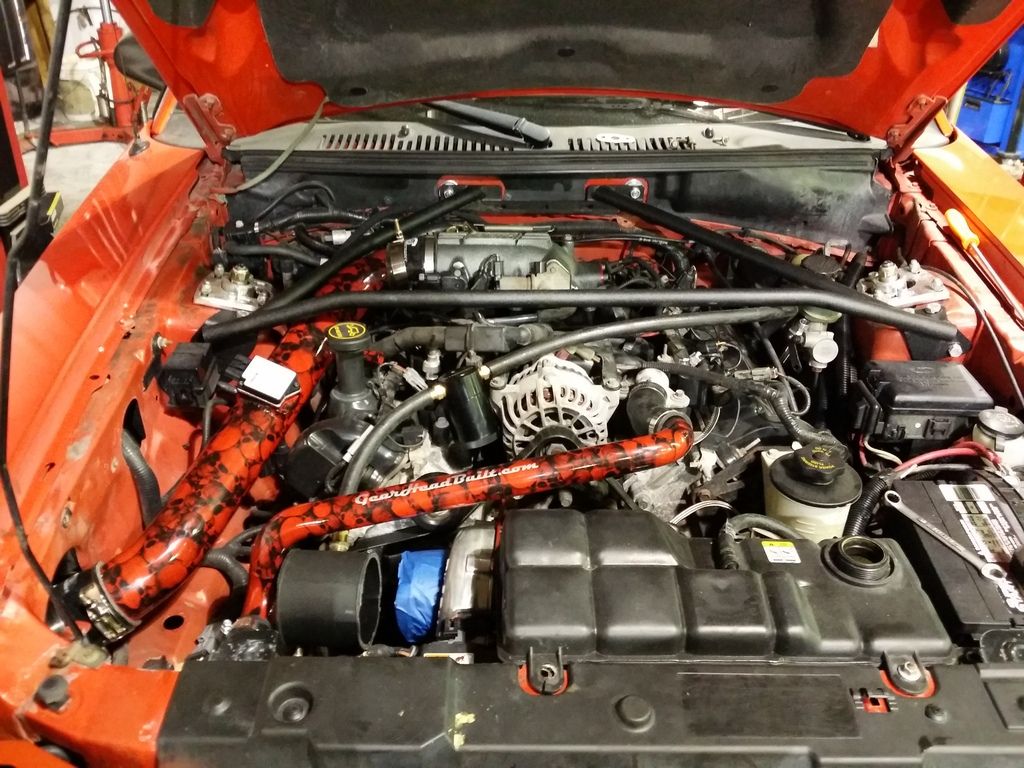 now to address the sway bar end links, i stated earlier in this build that i buy aftermarket end links just for the bushing and the washers. well the stock washers wont come off the stock end links, and normally these are broken, or the bushing can be just plain shit and for around 20 bucks or so, its worth it IMO. using the welded bolts and sleeves on3 provides you set them up just like this!
now you can go up top and install your spark plugs, and 2v and 4v guys you can use these or not, i run TR6 plugs gapped at .028
and also install you injectors at this time, and remove the stock egr stuff from the car and install the blokc off plate on3 priovides in the hardware kit!
what i do, is run a oil sepertor in the pcv line, this removes oil before it gets into the intake track! oil in the intake is not good in any way, it lowers the octane rating!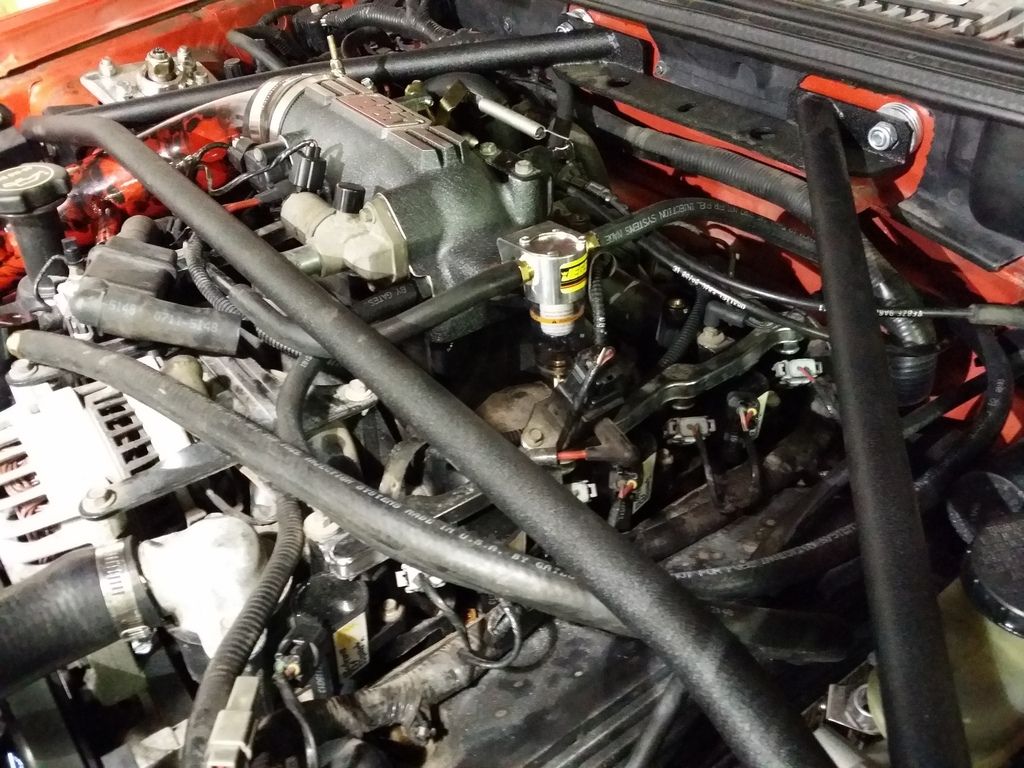 you can see i mounted it right to the egr delete, and our seperator kit comes with the needed 3/8 hose to install this, just make sure you have it routed correctly!
and this is what you will find in just about 100 or so miles depending on your car!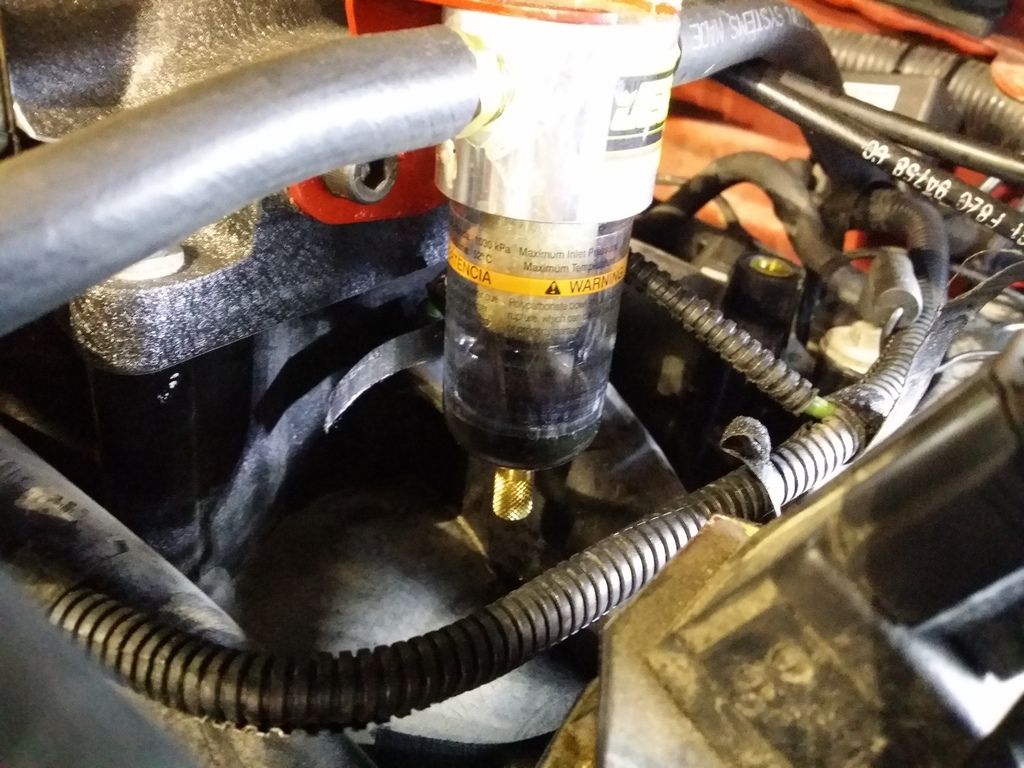 heres a link to our sepertor kits!
http://gearheadbuilt.myshopify.com/collections/on3-fuel-air-products/products/gearhead-pcv-oil-air-seperator-upgrade?variant=2501302468
(the pcv and crank are seperate so make sure if you want both, to place both in your cart!
now most vent the cran case , and i have done it too with a simple filter on the driver valve cover, but i have been using the on3 catch cans on this, and setting up it up and the factory had as a closed crank case vent! i like having a draw to help pull the vapor out, and the seperator keeps the oil from getting back into the intake track!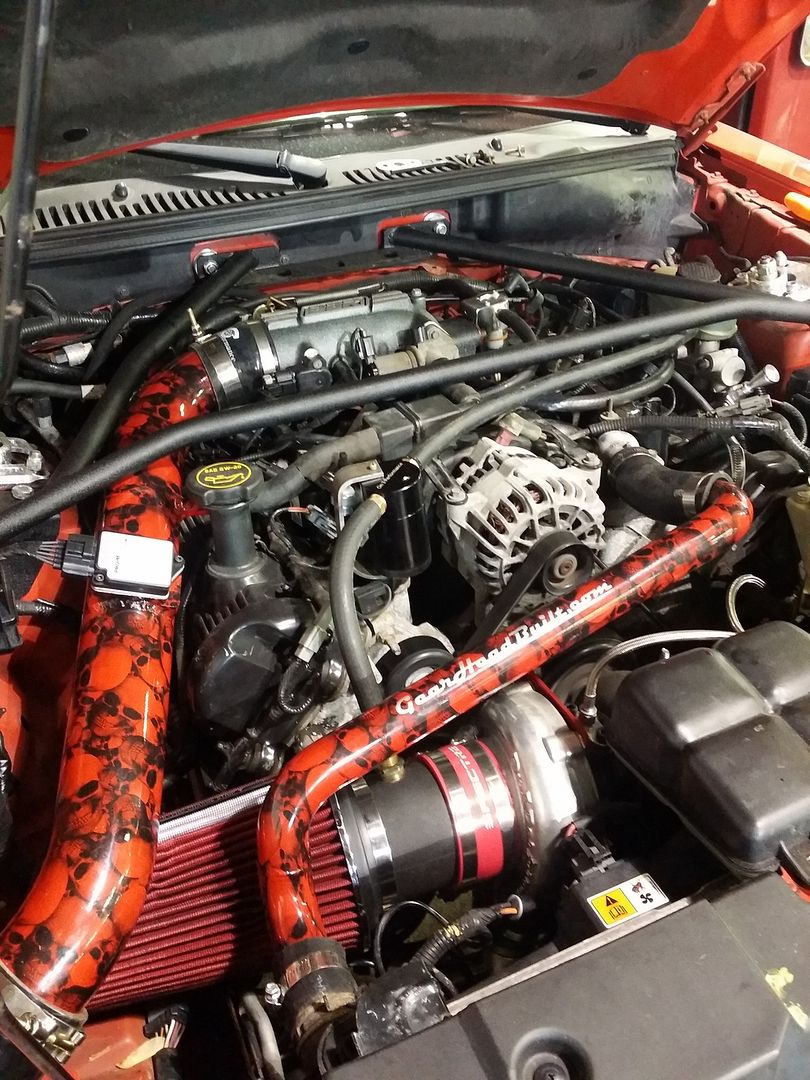 Site Admin
Posts: 219
Joined: Thu Apr 24, 2008 5:29 am
---
now, yes the turbos are t4s, but im telling you now, the t3 blankets on3 sells fit the t4 better!
it clears on this 2v just fine!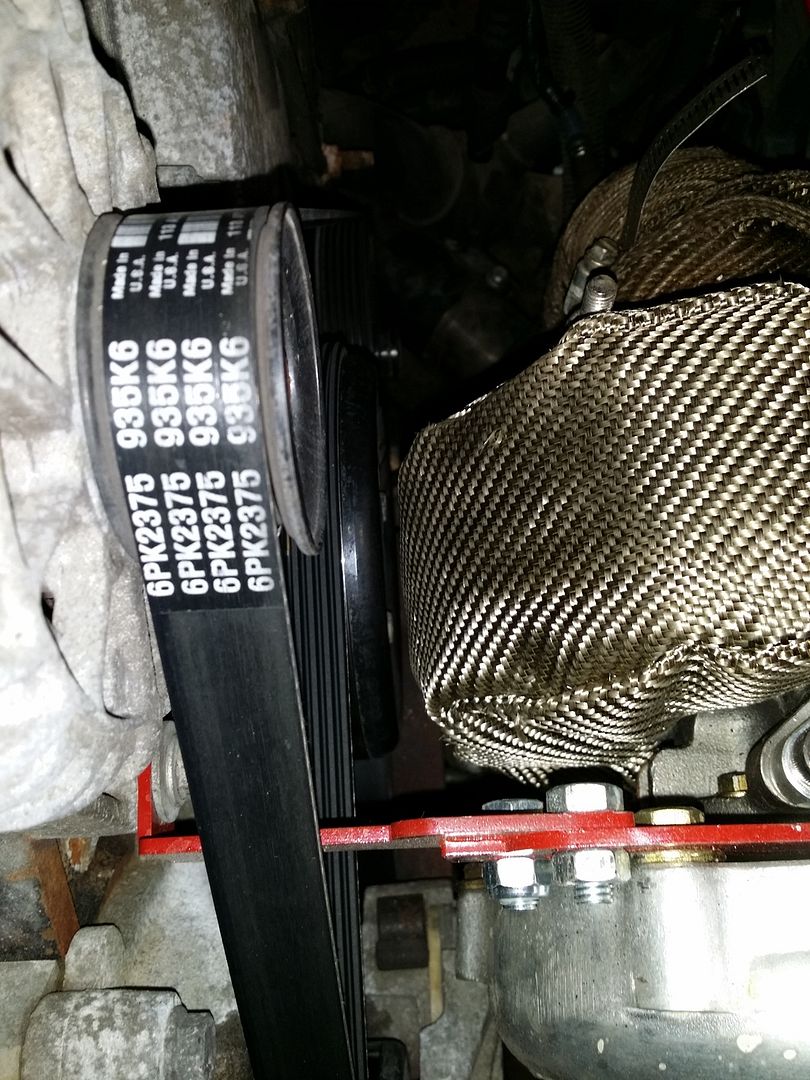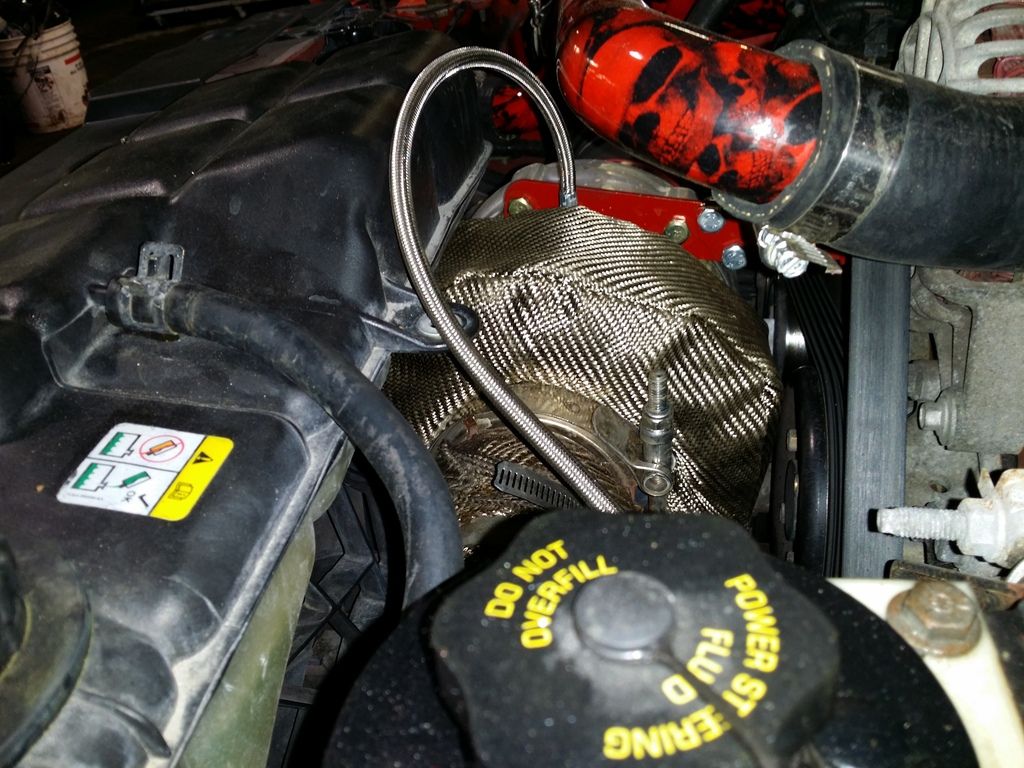 we sell and offer these as well in out webstore in t3 and t4 sizes in 2 different finishes as well
http://gearheadbuilt.myshopify.com/collections/on3-turbo-system-components/products/on3-turbo-blanket-add-on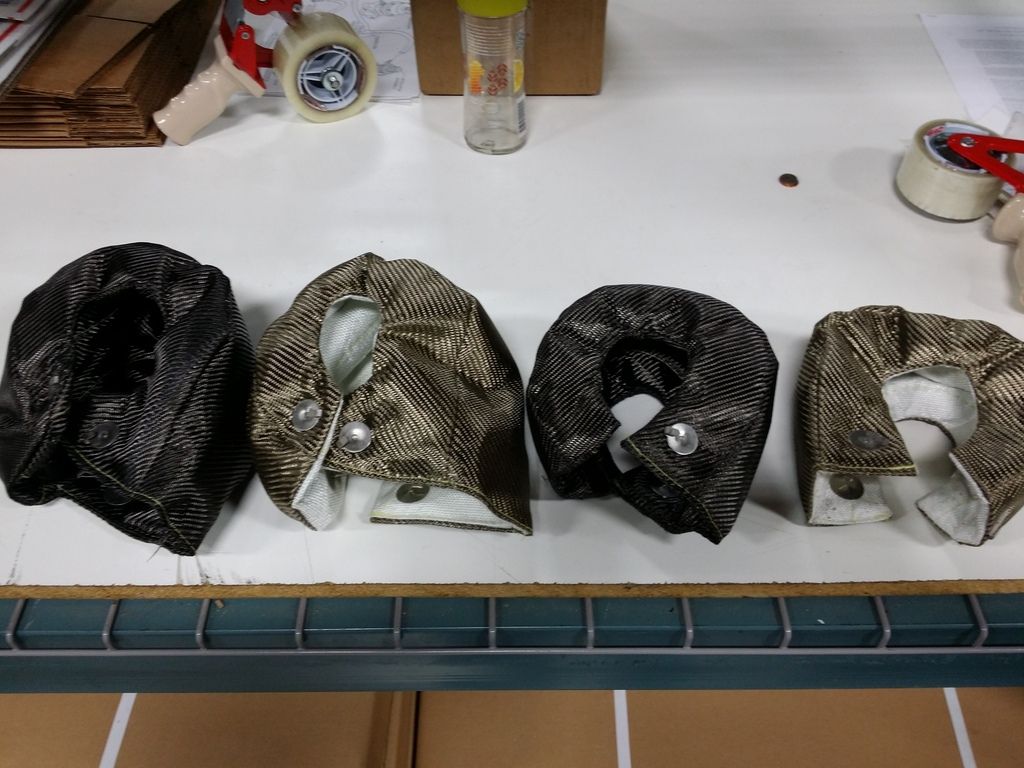 and i get asked alot, we due you do a seperator on the crank case system, well simply put the factory was that way, and it drew in minor oil vapor from the valve cover anyway. instead of just venting it with a breather filter, this system allows a draw to be on the system and helps in several technical ways im not going to get into in this write up!
now i have seen many with race cars with open down pipes use a exhaust draw system with these catch cans as well. in a race car id do one in each valve cover!, and having the fitting at the front of each would be ideal!. catch can for each hose, and a small oil seperator like these on3 units, and 2 exhaust tubes with check valves would be needed.
the other way of crank case evacution!
check valves IMO are a must
this is the standard evac system we used for decades on cars!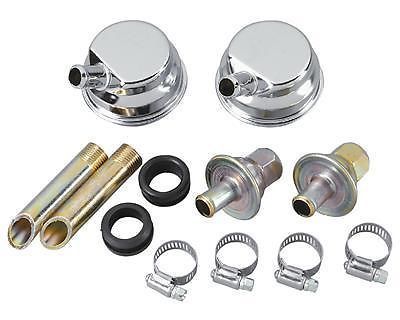 these are out there too, but as you see youd have to run braided line to these bad boys!
heres the basic idea of how the exhuast is used to create the draw for you!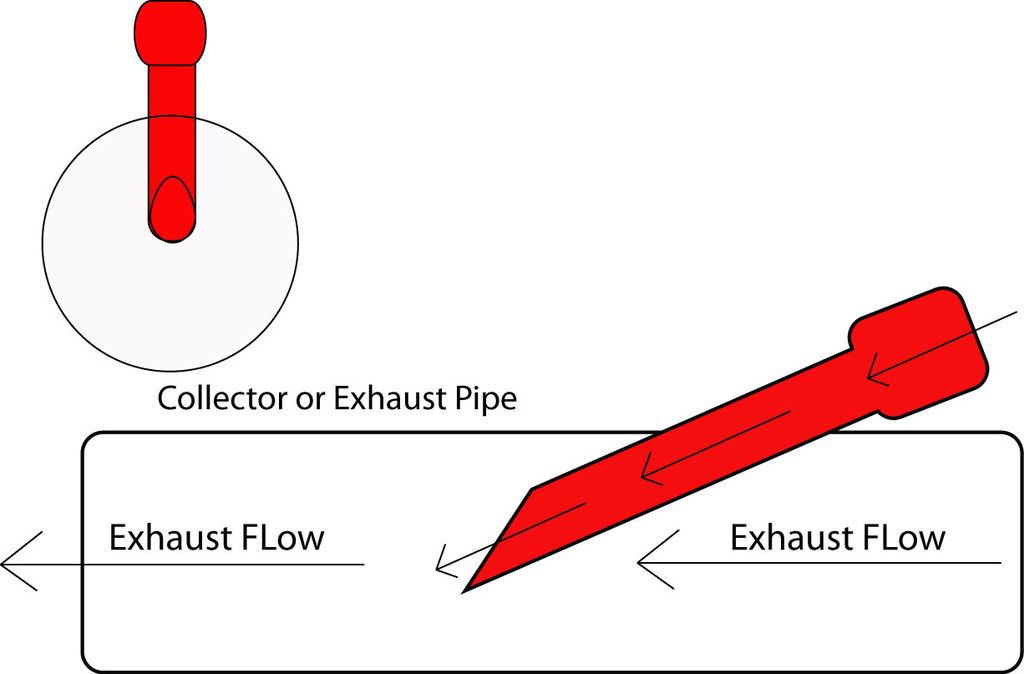 one hose for each cover! and if using a small seperator like the on3 ones we use and sell, id use one in each hose!
and to give you a idea how they can route to your down pipe, i am going to use this image!
im sure i will be doing a system liek this soon, so i will be posting more pics and details on this type of system later on!
pcv seperator system
the other question i get is why do you run the smaller seperator on the pcv line? well simply put, the pcv is a one way check valve, in boost it will close and not put boost into the crank case, but in normal driving, there is going to be the standard ammount of vacuum, well oil in the intake track will lower the octane rating of youre fuel, and no one wants that, and with the amount of oil, you would be surprised!
this one only has under 1000 miles since it was installed!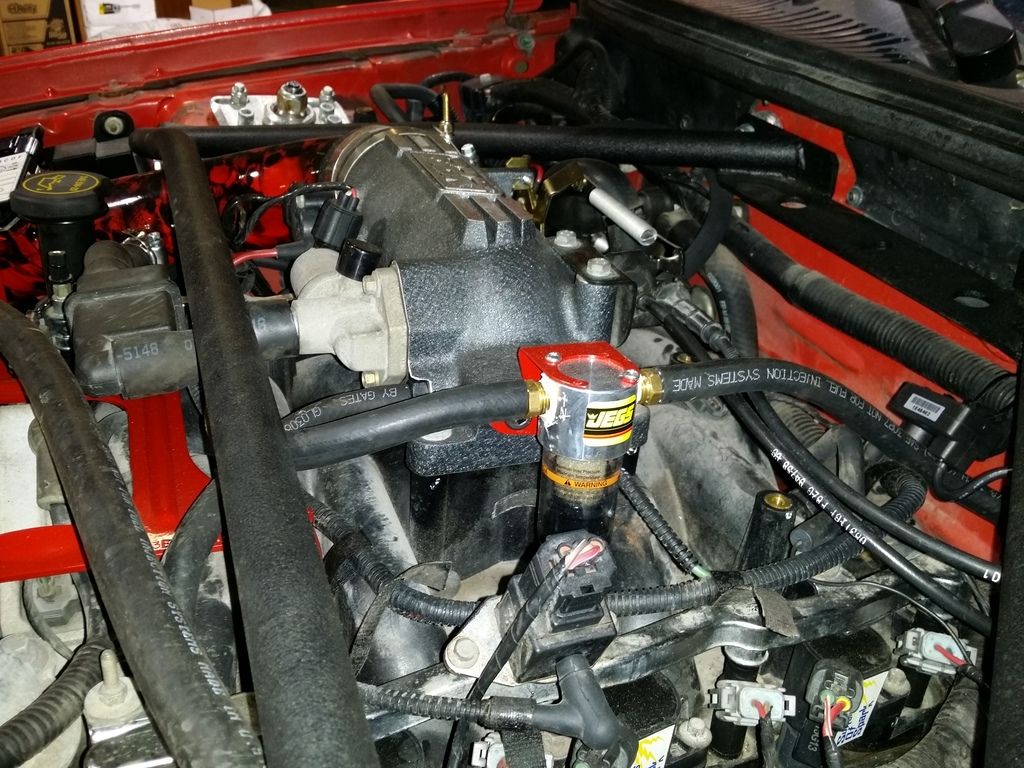 and a good amount of oil in there if you ask me!
and like i have said, this is the way i do them here at my shop, we offer the kits fully installed and tuned out the door. also sell kits, parts pieces and ass you see here, share tech info! now if you need more help with somwething, please dont call the shop and expect to speak to me directly! please email me thru our website!
or if you want a custom quote for a kit, complete package, or wants a installed quote for a non stock car, email me there asw well! thanks for reading!
http://www.gearheadbuilt.com
Site Admin
Posts: 219
Joined: Thu Apr 24, 2008 5:29 am
---
4v forward facing tips!
now you will have the same shorten the stud issue on the passenger side, but in the top row of bolts!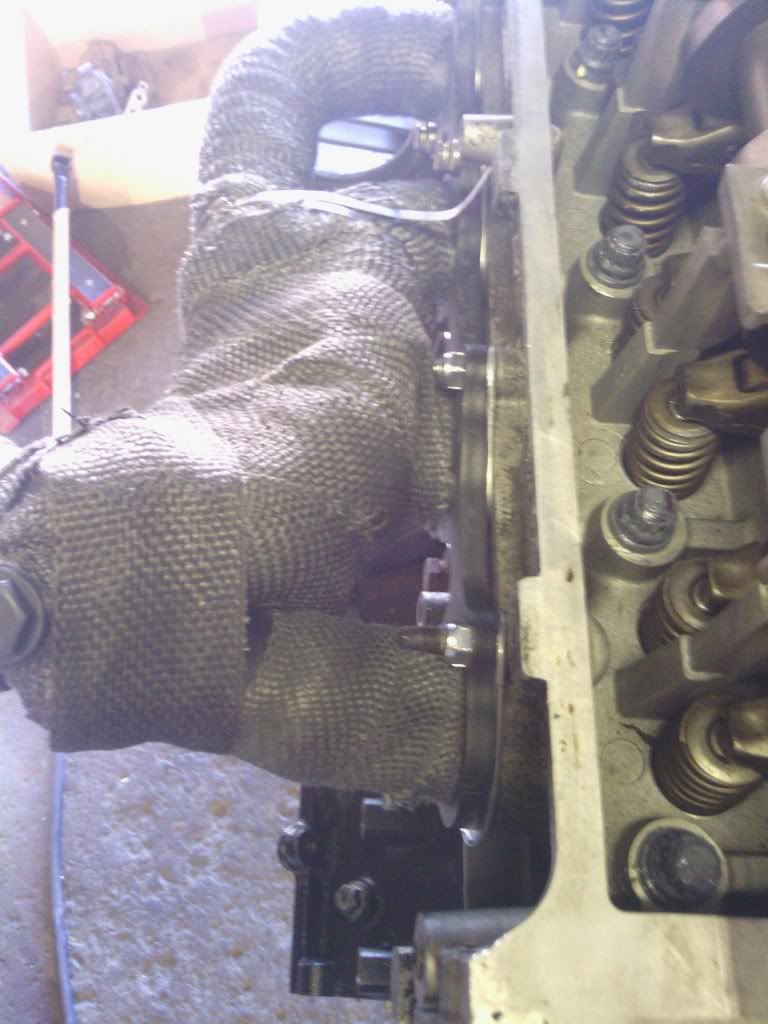 now this is what i was talking about with the drain in the 2v part, i weld a bung into the pan, npt to an fitting and a 10an 45 fitting and it clears the hot side great!
just make sure you check placement before you removge the pan!
also on the 4v install, most have a oil cooler on them, and when using the upper cross over delete and or just trying to clear the hot side this is what we do
heres the lower setup i used, its A 2V OUTLET! AND LOWER HOSE! yes it bolts right to the 4v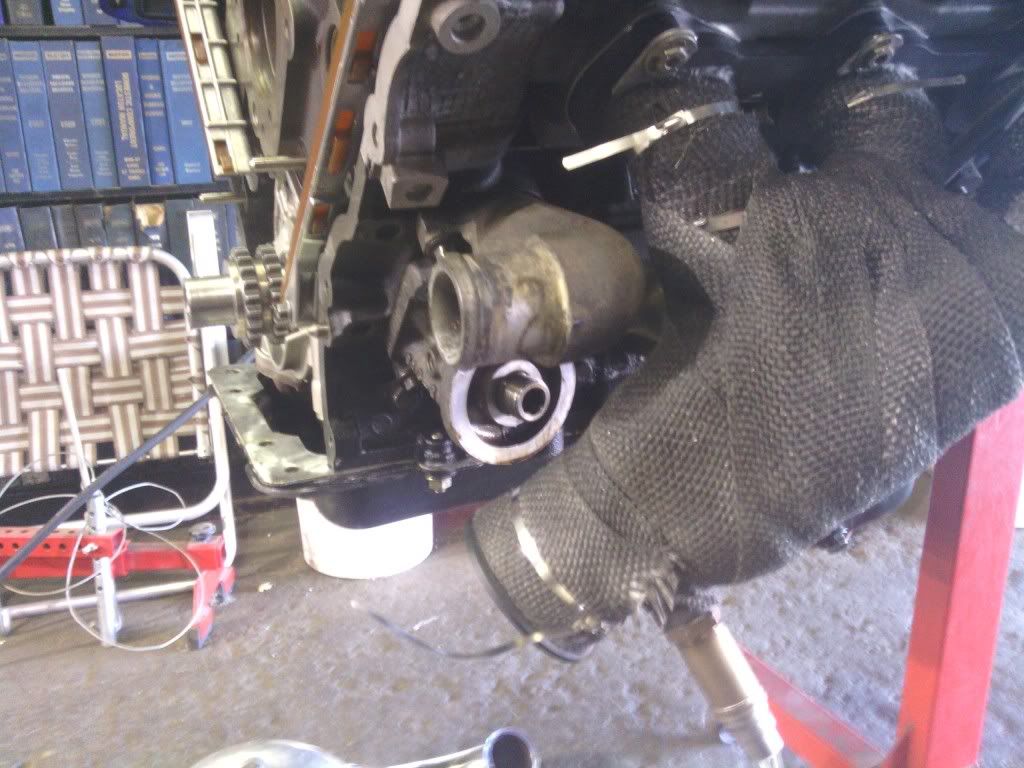 Site Admin
Posts: 219
Joined: Thu Apr 24, 2008 5:29 am
---
proven combos!
stone stock 1999 2v car, on3 turbo kit with the 67mm bb upgrade
8 psi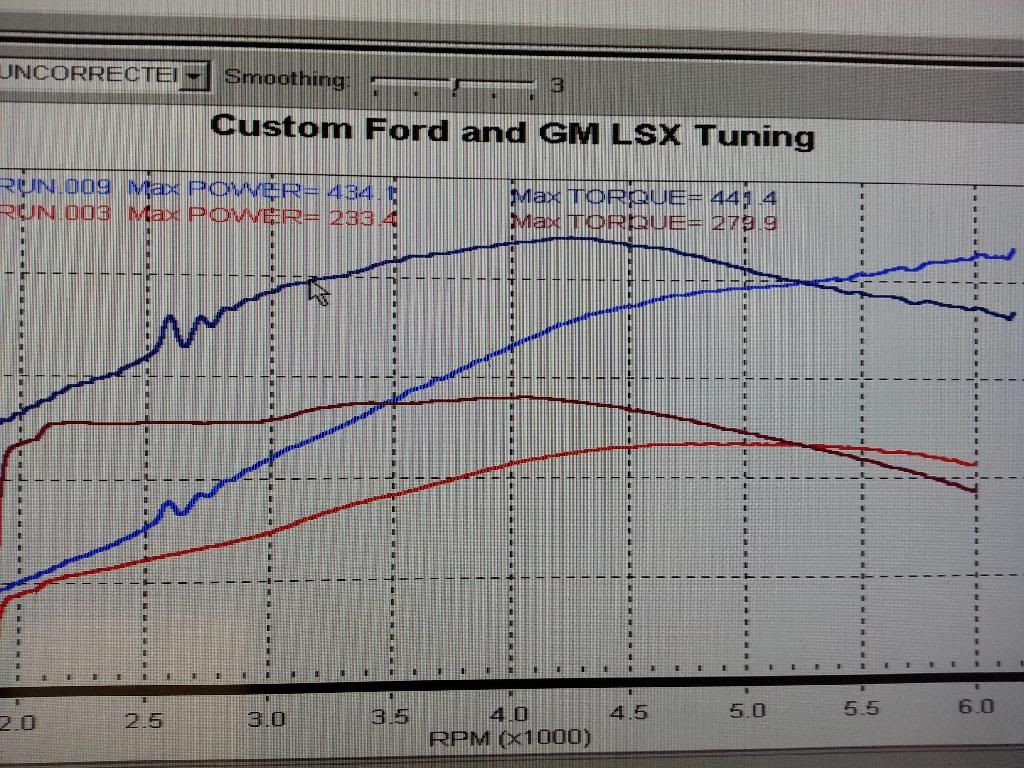 willie horns gt stock 2v long block
78mm tb
3.55 gears
hoosier drag radials
11.3 @123 is his best so far
see video below!
https://youtu.be/vZZxXcKwTnI
4v single
03 cobra bottom end ross pistons
99-01 head and intake studded stock 03 cobra cams
76mm bb unit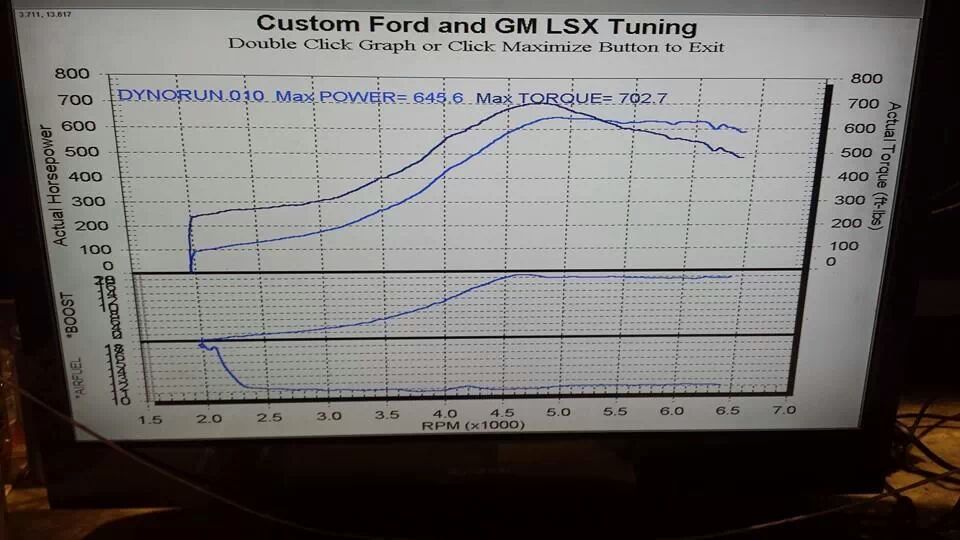 adding more pics to this!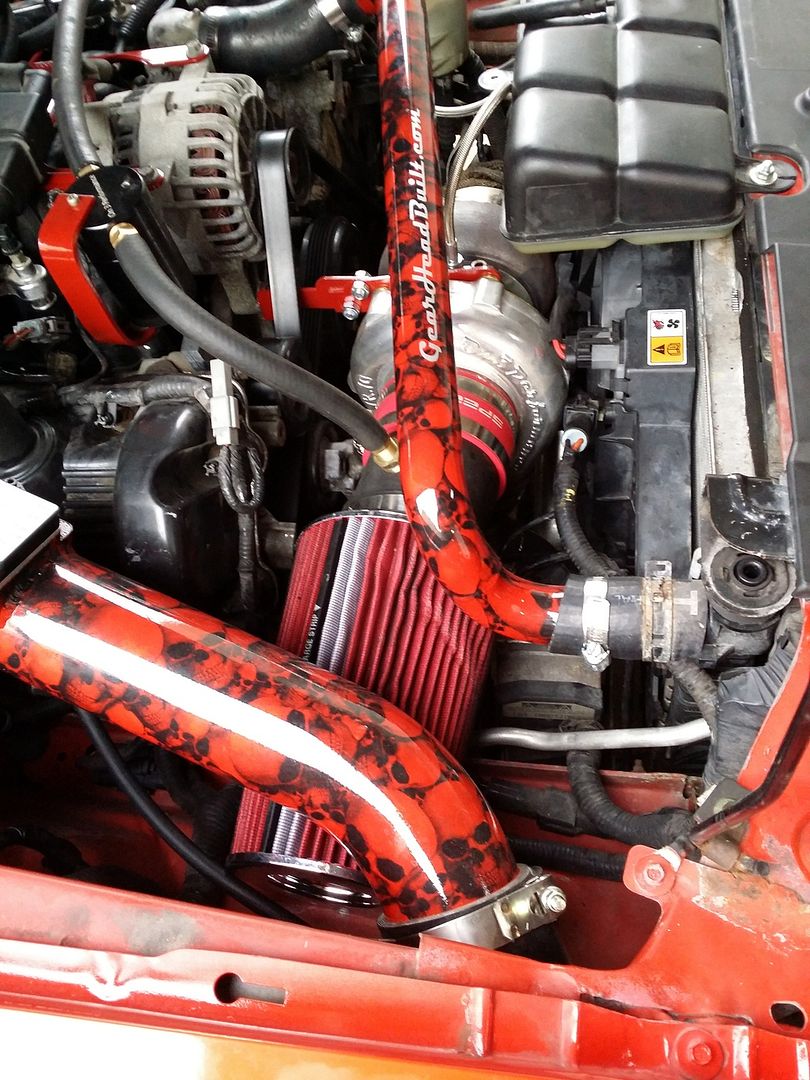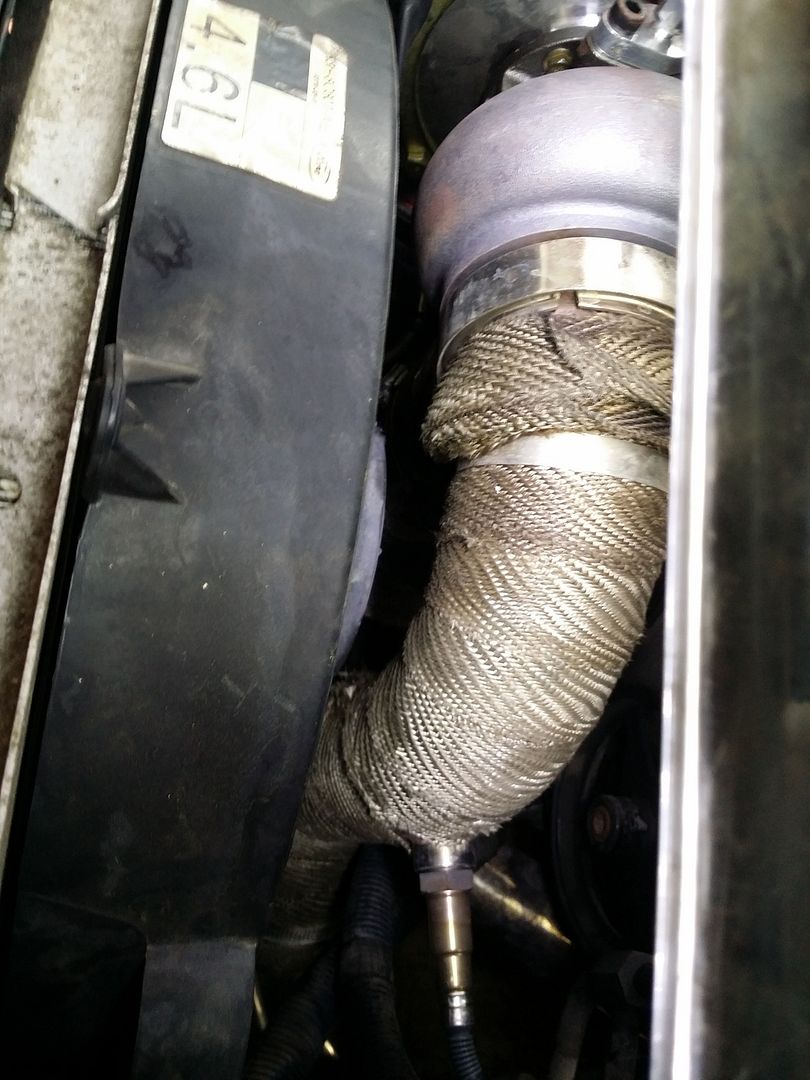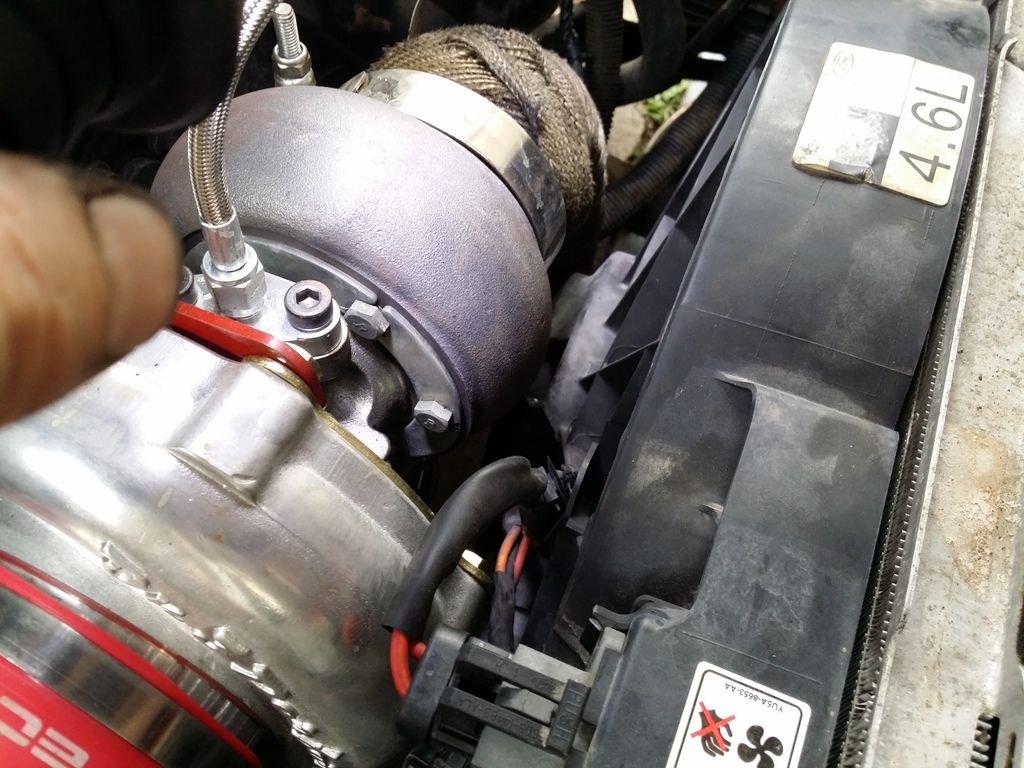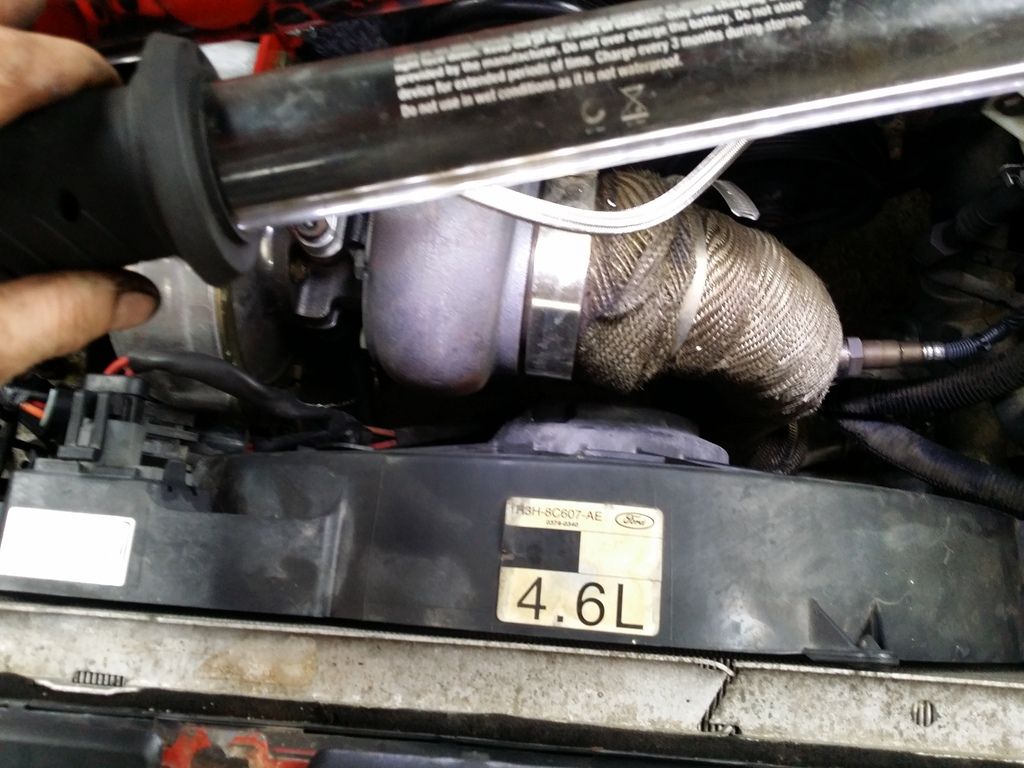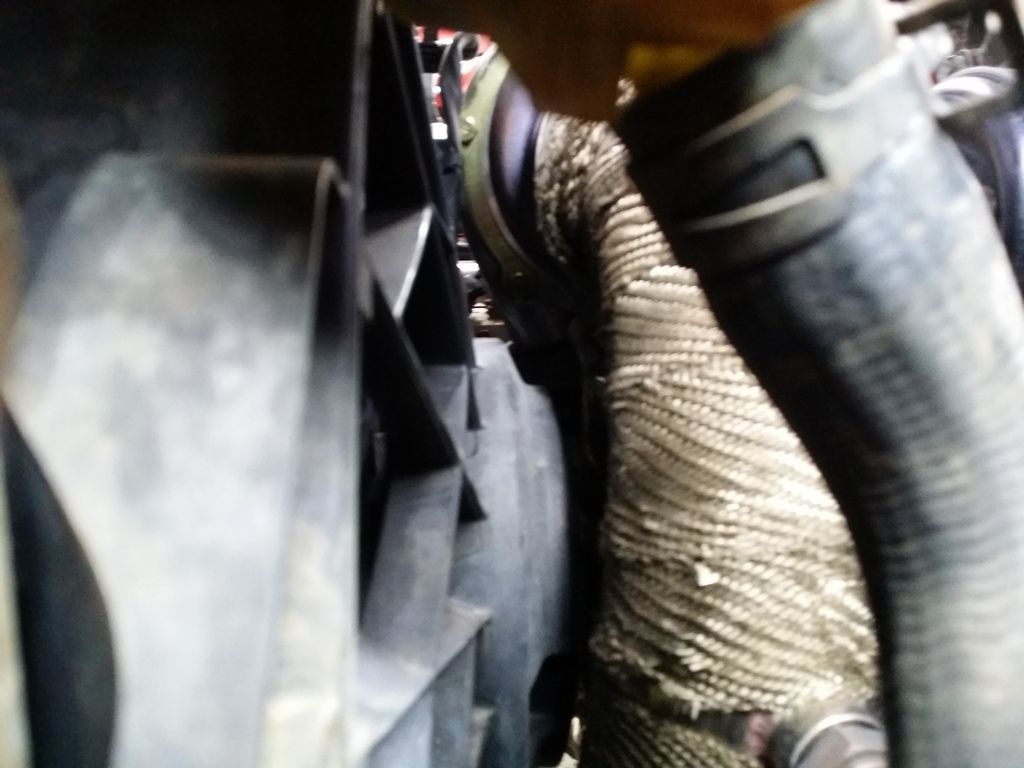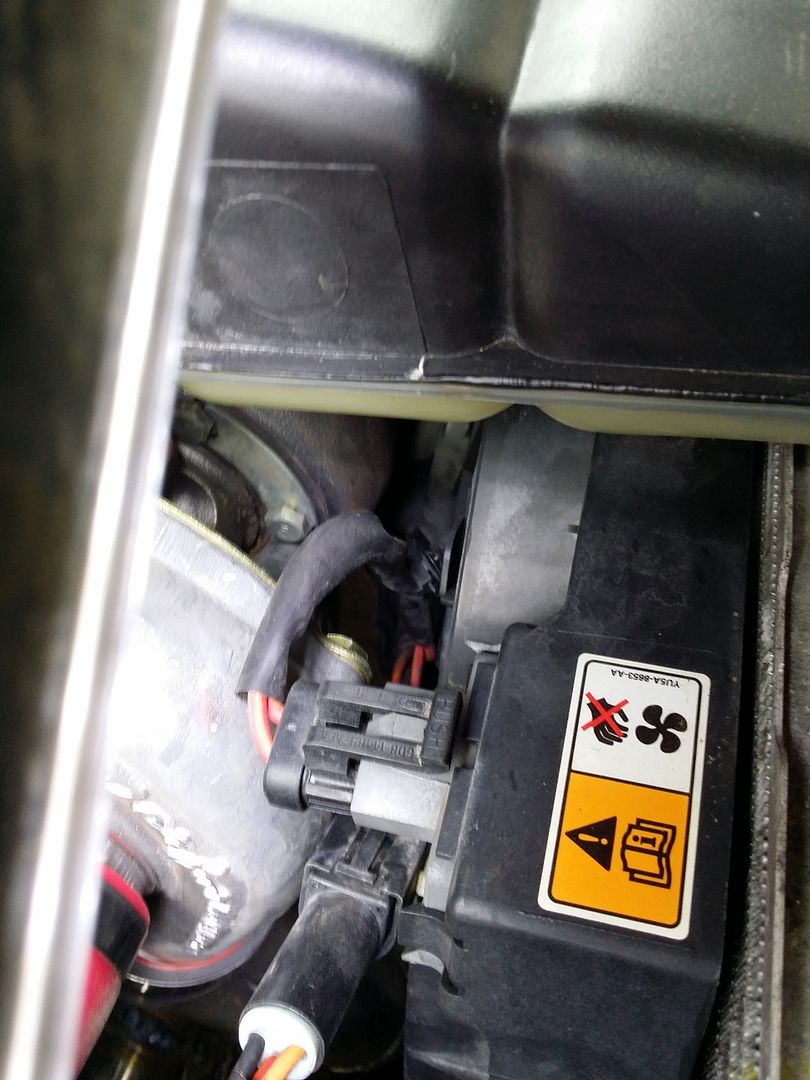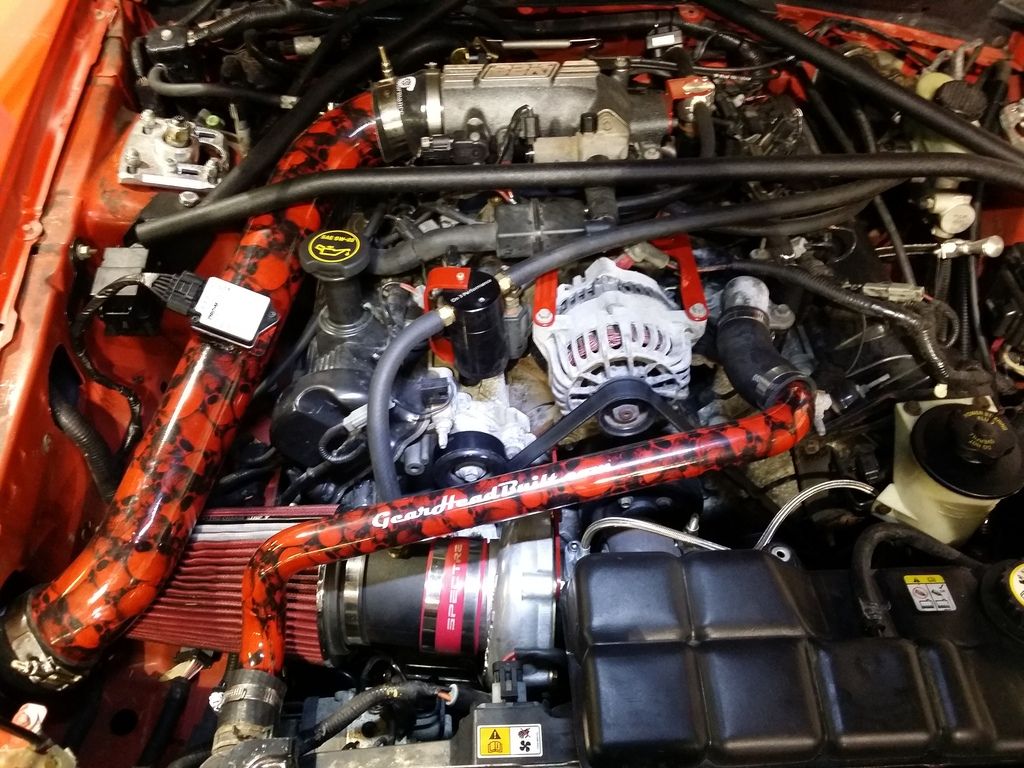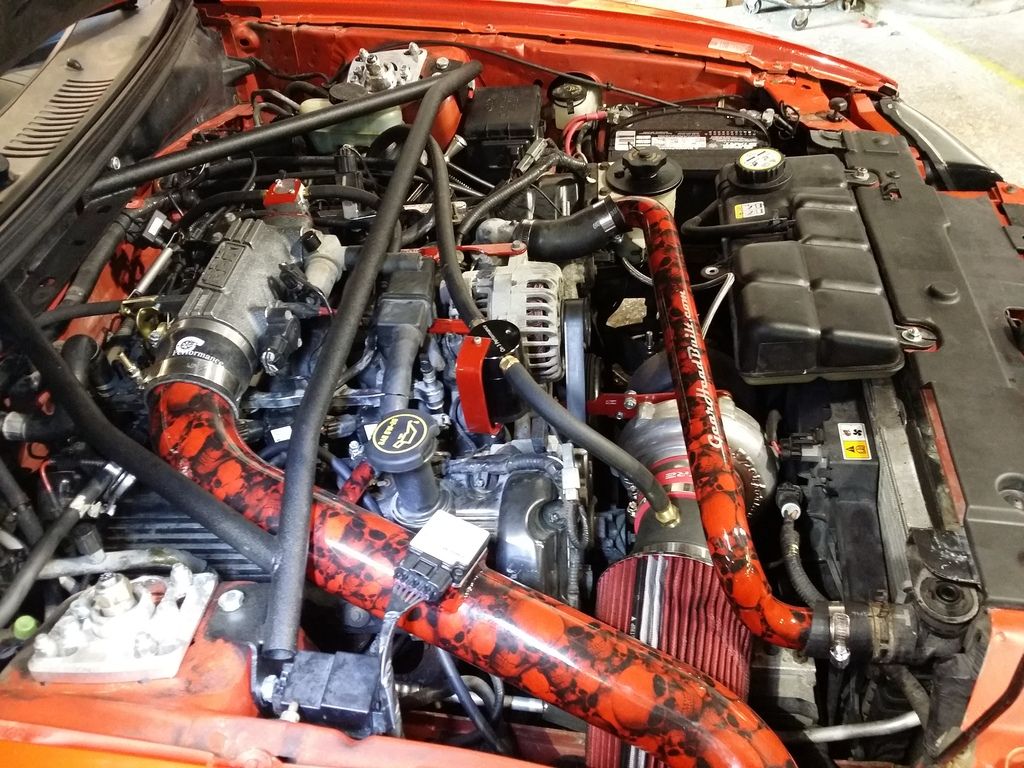 Site Admin
Posts: 219
Joined: Thu Apr 24, 2008 5:29 am
---
---
Return to Tech section/ ON3 instruction & help
Users browsing this forum: No registered users and 1 guest